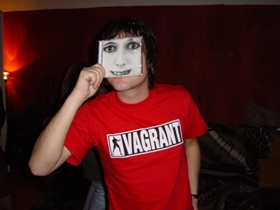 Foxygen-Mitglied Jonathan Rado hat bereits vor Monaten sein Debut als Solokünstler veröffentlicht. "Law and Order" ist über den Import inzwischen im Sunday Service Hauptquartier angekommen und klingt nach Lo-Fi, Sixties, Weirdness und vor allem reduziert. Die Handclaps und Bassläufe die man von Foxygen gewohnt ist, sucht man hier vergeblich.
Sein Labelkollege Matt Kivel (beide veröffentlichen auf dem New Yorker Label Woodsist) bietet auf "Days Of Being Wild" gekonntes Songwriting, welches stark von Dump (aka James McNew, Bassist von
Yo La Tengo
) beeinflusst wurde. Ungewohnt ruhige Beats wurden von FaltyDL zusammen geschraubt und mit Tre Mission gibt es eine Prise Hip Hop aus Kanada.
Weitere Ausgaben von Sunday Service
Playlist
1.
The Gentle Lurch / The Darkest Grove Of Pines
Workingman's Lunch / K&F

…

2.
Beaty Heart / Yadwigha's Theme
Mixed Blessings / Nusic Sounds

…

3.
White Fence / Hard Water
For The Recently Found Innocent / Drag City

…

4.
The John Steel Singers / Never Read Tolstoy
Everything's A Thread / Full Time Hobby

…

5.
Jonathan Rado / Oh Suzanna!
Law And Order / Woodsist

…

6.
Jonathan Rado / I Wanna Feel It Now!!!
Law And Order / Woodsist

…

7.
Peter Matthew Bauer / Latin American Ficciones
Liberation! / Memphis Industries

…

8.
Sinéad O'Connor / Dense Water Deeper Down
I'm Not Bossy, I'm The Boss / Nettwerk

…

9.
Alice Rose / Teardrops
Each Is A Dream / Manual Music

…

10.
Jessica Pratt / Casper
Jessica Pratt / Birth

…

11.
Eating Snow / Bridges
Freude am Tanzen / SIX10

…

12.
Paws / War Cry
Youth Culture Forever / Fat Cat

…

Stunde 2:
1.
The Fresh & Onlys / Home Is Where
House Of Spirits / Mexican Summer

…

2.
Matt Kivel / The First Time
Days Of Being Wild / Woodsist

…

3.
Matt Kivel / Under Water
Days Of Being Wild / Woodsist

…

4.
Walter Salas-Humara / Uncomplicated
Curve & Shake / Blue Rose

…

5.
Tre Mission / Stigmata
Stigmata / Big Dada

…

6.
Tre Mission / Real Grind
Stigmata / Big Dada

…

7.
Lone Ranger / Noah In The Ark
Studio One Dancehall / Soul Jazz

…

8.
DJ Dawn & The Ranking Queens / Peace Truce Thing
Studio One Dancehall / Soul Jazz

…

9.
Spoon / Rent I Pay
They Want My Soul / Anti

…

10.
Spoon / Do You
They Want My Soul / Anti

…

11.
Spoon / Outlier
They Want My Soul / Anti

…

12.
Falty DL / Frontin
In The Wild / Ninja Tune

…

13.
Falty DL / Ahead The Ship Sleeps
In The Wild / Ninja Tune

…

14.
Plaid / Oh
Reachy Prints / Warp

…