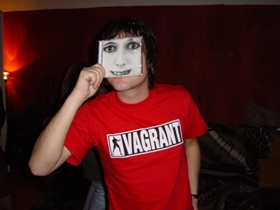 Francois & The Atlas Mountains waren in Afrika und haben ihren frankophilen Pop von lokalen Musikern mit cleveren Afro-Beats unterlegen lassen. Auf der "L'Homme Tranquille EP" gibt es erste Kostproben davon.
All We Are sind ein Trio aus Liverpool, die ihr gleichnamiges Debüt zwischen feinem Pop und versteckten Disco-Sounds angerichtet haben.
Walisische Musiker stehen in einer Tradition minimalistischer Musik (
Young Marble Giants
,
Cate Le Bon
). H Hawkline führt auf seinem neusten Album "In The Pink Of Condition" dieses Erbe angemessen fort.
Die Schreihälse von Title Fight haben sich dem Hardcore abgewendet und auf "Hyperview" die Melodien für sich entdeckt.
Weitere Ausgaben von Sunday Service
Playlist
1.
Schneider Kacirek / Electro Electronics
Shadows Documents / Bureau B

…

2.
Petite Noir / Come Inside
Anxiety EP / Double Six

…

3.
Jose Gonzalez / Leaf Off/ The Cage
Vestiges & Claws / Peacefrog

…

4.
Black Yaya / Under Your Skin
Black Yaya / City Slang

…

5.
Laura Marling / False Hope
Short Movie / Caroline

…

6.
Kate Tempest / Stink
Bad Place For A Good Time / Big Dada

…

7.
Kante / My Love Is A Fever
In der Zuckerfabrik / Hook Music

…

8.
Kante / Donaudelta
In der Zuckerfabrik / Hook Music

…

9.
The Notwist / Object 9
Messier Objects / Alien Transistor

…

10.
The Notwist / Object 11
Messier Objects / Alien Transistor

…

11.
Pond / Zond
Man It Feels Like Space Again / Caroline

…

12.
Dutch Uncles / Decided Knowledge
O Shudder / Memphis Industries

…

13.
LoneLady / Bunkerpop
Hinterland / Warp

…

Stunde 2:
1.
The Districts / 4th And Roebling
A Flourish And A Spoil / Fat Possum

…

2.
Zun Zun Eguin / Rigid Man
Shackles Gift / Bella Union

…

3.
Franclois & The Atlas Mountains / Ayan File
L'Homme Tranquille / Domino

…

4.
Franclois & The Atlas Mountains / Jeans
L'Homme Tranquille / Domino

…

5.
Title Fight / Mrahc
Hyperview / Anti

…

6.
Title Fight / Trace Me Onto You
Hyperview / Anti

…

7.
All We Are / Ebb/Flow
All We Are / Domino

…

8.
All We Are / Feel Safe
All We Are / Domino

…

9.
All We Are / Honey
All We Are / Domino

…

10.
H Hawkline / Sticky Slithers
In The Pink Of Condition / Heavenly

…

11.
H Hawkline / Isobelle
In The Pink Of Condition / Heavenly

…

12.
Two Gallants / Incidental
We Are Undone / Ato

…

13.
Onom Agemo & The Disco Jumpers / Trudy The Monster
Cranes & Carpets / Agogo

…

14.
Jessica Pratt / Moon Dude
On Your Own Love Again / Drag City

…