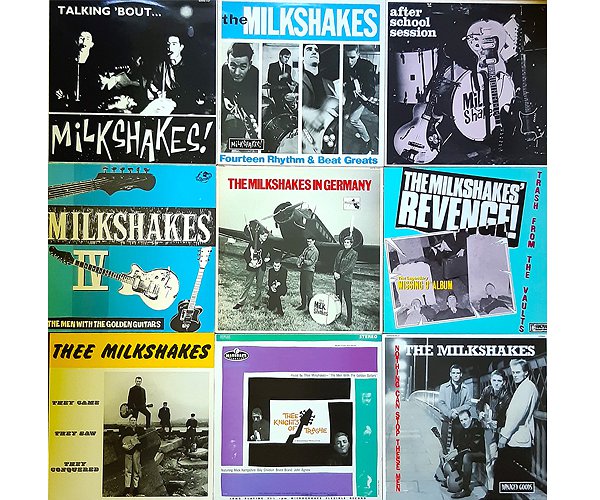 Vor 40 Jahren erschien das Debüt der britischen Band The Milkshakes. Zu diesem Jubiläum hat Carsten Stachowski seine Milkshakes-Platten entstaubt und präsentiert einen Rückblick auf eine der ersten europäischen Retro-60s-Combos.
Die Band um die beiden Sänger und Gitarristen Mickey Hampshire und Wild
Billy Childish
stammte aus der englischen Hafenstadt Chatham. Dort gründeten sich The Milkshakes 1980 und kombinierten Rock 'n' Roll und Beat im Stil der frühen 1960er-Jahre mit einer guten Prise Punk-Rock. In den vier Jahren ihres Bestehens nahmen sie zehn Longplayer und vier Singles auf, den Großteil ihrer Platten veröffentlichten sie selbst. Bis heute werden ihre Alben als liebevoll gemachte Reissues nachgepresst.
Weitere Ausgaben von That's Rhythm
---
DennisWitjes
vor einem Jahr
---
DennisWitjes
vor einem Jahr
Playlist
1.
The Milkshakes / The Girl That Radiates That Charm
Still Talking 'bout Milkshakes / Vinyl Japan

…

2.
The Milkshakes / She'll Be Mine
Talking 'bout Milkshakes / Hangman's Daughter

…

3.
The Milkshakes / Exactly Like You
Fourteen Rhythm & Beat Greats / Big Beat

…

4.
The Milkshakes / Take You Home Tonight
Fourteen Rhythm & Beat Greats / Big Beat

…

5.
The Milkshakes / Soldiers Of Love
After School Session / Hangman

…

6.
Arthur Alexander / Black Night
A Shot Of Rhythm And Soul / Ace

…

7.
Bo Diddley / Dearest Darling
Bo Diddley / Chess

…

8.
The Milkshakes / That Girl Of Mine
After School Session / Hangman

…

9.
The Milkshakes / You Can Only Lose
After School Session / Hangman

…

10.
The Milkshakes / Chatham Drive
The Men With The Golden Guitars / Sputnik

…

11.
The Milkshakes / If I Get You
The Milkshakes In Germany / Wall City

…

12.
The Milkshakes / I Want You
The Milkshakes Revenge / Hangman

…

13.
The Milkshakes / She Tells Me She Loves Me
The Milkshakes Revenge / Hangman

…

14.
The Milkshakes / I'll Use Evil
Thee Knights Of Trash / Hangman's Daughter

…

15.
The Milkshakes / What You've Got
Thee Knights Of Trash / Hangman's Daughter

…

16.
The Delmonas / I Did Him Wrong
Do The Uncle Willy / Get Hip

…

17.
The Milkshakes / Bo Diddlius
They Came, They Saw, They Conquered / Big Beat

…

18.
The Milkshakes / This Feeling Inside
They Came, They Saw, They Conquered / Big Beat

…

19.
The Milkshakes / She's Just Fifteen Years Old
Nothing Can Stop These Men / Damaged Goods

…

20.
The Delmonas / Jealousy
Do The Uncle Willy / Get Hip

…

21.
The Masonics / Where's Johnny Moped Now?
Single / Slovenly

…

22.
Wild Billy Chyldish CTMF / Thatcher's Children
Die Hinterstoisser Traverse / Damaged Goods

…

23.
The William Loveday Intention / People Think They Know Me
People Think They Know Me … But They Don't Know Me / Damaged Goods

…

24.
The William Loveday Intention / Again And Again (Reprise)
People Think They Know Me … But They Don't Know Me / Damaged Goods

…