BTTB – Back To The Basics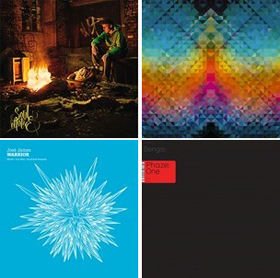 Ausgabe vom 01.07.2010:
Hören
Addison Groove war am vergangenen Wochenende unser Gast bei der Fusion und sein Set war ähnlich wie der Mix den er für das Fact-Magazine gemixt hat: Etwas Juke, etwas Dubstep, außerordentlich tanzbar und sehr individuell!
Headhunter nannte er sich bisher, und wir hören je einen Song seiner beiden Projekte. Außerdem aktuelle Songs von José Warrior, SBTRKT, DFRNT,
James Blake
, Wagawaga, Benga und älteren von Jack Sparrow und James Blake.
Weitere Ausgaben von BTTB – Back To The Basics
Playlist
1.
James Blake / Buzzard & Kestrel
The Bells Sketch / Hessle Audio (2010)
2.
DFRNT / The Next Step (El Rakkas Remix)
mp3 only / Echodub (2009)
3.
Sharmaji / Break Your Heart (ft. Maggie Horn)
12" only / Soul Motive (2008)
4.
Swindle / Coffee
Airmiles EP / Planet Mu (2010)
5.
Africa Hitech / The Sound Of Tomorrow (ft. Erik Breuer)
Blen / Warp (2010)
6.
James Blake / Footnotes
CMYK EP / R&S (2010)
7.
José James / Warrior (Sbtrkt Remix)
12" only / Brownswood (2010)
8.
Goldie / Inner City Life (SBTRKT Timeless Edit)
12" only / Sbtrkt (2009)
9.
Addison Groove / Footcrab
12" only / Swamp81 (2010)
10.
Jack Sparrow / The Chase
12" only / Tectonic (2009)
11.
Headhunter / Collecting Butterflies
North / South / East / West / Bleep (2009)
12.
DJG / Duality
12" only / Pushing Red (2010)
13.
Sbtrkt / Soundboy Shift
12" only / Young Turks (2010)
14.
BMC / Soundbwoy Killing (ft. Werd2Jah / Bukkha Remix)
The F8 EP / Dirty Circuit (2010)
15.
Wagawaga / Got Nice
ph-3.5.6 / Acroplane.org (2010)
16.
Benga / Transform
Phaze: One / Tempa (2010)