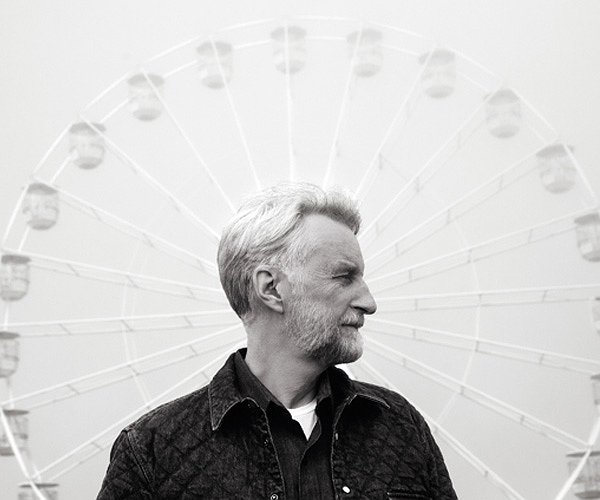 Seit fast 40 Jahren ist der Brite
Billy Bragg
musikalisch aktiv. Sein erstes Album "Life's A Riot With Spy Vs Spy" erschien im Jahr 1983. Seitdem folgten acht weitere Solo-Studioalben sowie einige Kompilationen und Live-Platten. Bragg macht seine politische Haltung auch immer wieder in seiner Musik deutlich, aus seiner Feder stammen zahlreiche Protestlieder. Als wäre das nicht genug, ist Bragg auch Bestseller-Autor. In seinem aktuellen Werk "Die drei Dimensionen der Freiheit: Ein oolitischer Weckruf" setzt er sich mit linken Theorien und Konzepten auseinander.
Am 29. Oktober 2021 erscheint das neue Album "The Million Things That Never Happened", welches in Zusammenarbeit mit seinem Sohn Jack Valero entstand. In gewohnter Folk-Rock-Manier singt Bragg mal über die Liebe, mal über die Tücken des Kapitalismus.
Anlässlich der Veröffentlichung von "The Million Things That Never Happened" ist Billy Bragg heute im Gespräch bei Friederike Herr.
Weitere Ausgaben von ByteFM Magazin
Playlist
1.
Courtney Barnett / Charity
Tell Me How You Really Feel / Marathon Artists

…

2.
Active Child / Hanging On
You Are All I See / Vagrant Records

…

3.
Elbow / The Seldom Seen Kid
The Seldom Seen Kid / Polydor

…

4.
Deyah / Shoreditch
Shoreditch (Single) / High Mileage / Low Life

…

5.
Billy Bragg / A New England
Back To Basics / Cooking Vinyl

…

6.
Twin Shadow / Is There Any Love
Twin Shadow / Cheree Cheree

…

7.
Loose Buttons / First To Know, Last To Understand
First To Know, Last To Understand / Moon Crawl Records

…

8.
Castlebeat / Into
Into (Single) / Spirit Goth Records

…

9.
My Baby / A Dream I Dream
A Dream I Dream / My Baby

…

10.
Tycho / Run Away (feat. Rum.Gold)
Run Away (Single) / Mom+Pop/Ninja Tune

…

11.
Kadhja Bonet / For You
For You (Single) / Ninja Tune

…

12.
Baths / Disorderly
Vans OTW Presents: What's Good LA? / Anticon

…

13.
Rainbirds / Sea Of Time
Call Me Easy Say I'm Strong Love Me My Way It Ain't Wrong / Mercury

…

14.
Billy Bragg / It Says Here
Brewing Up With / Cooking Vinyl

…

Stunde 2:
1.
Billy Bragg / Ten Mysterious Photos That Can't Be Explained
Ten Mysterious Photos That Can't Be Explained / Cooking Vinyl

…

2.
Billy Bragg / I Will Be Your Shield
Ten Mysterious Photos That Can't Be Explained / Cooking Vinyl

…

3.
Billy Bragg / Pass It On
The Million Things That Never Happened / Cooking Vinyl

…

4.
Jorja Smith x GuiltyBeatz / All Of This
All Of This (Single) / Famm

…

5.
Public Service Broadcasting / People, Let's Dance
People, Let's Dance (Single) / PIAS

…

6.
Galv / Hoch
Vola / Rummelplatzmusik

…

7.
Poppy Ajudha / Weakness
Weakness (Single) / Poppy Ajudha

…

8.
Bert Jansch / I Have No Time
Bert Jantsch / Sanctuary

…

9.
Pentangle / Light Flight
Basket Of Light / Sanctuary

…

Stunde 3:
1.
Charles Bradley / Golden Rule (feat. Menahan Street Band)
No Time For Dreaming / Dunham Records

…

2.
Flohio / Whiplash
Whiplash / Flohio

…

3.
Mulatu Astatke, Black Jesus Experience / Mulatu
To Know Without Knowing / Agogo Records

…

4.
Sault / Son Shine
Untitled (Rise) / Forever Living Originals

…

5.
Depeche Mode / Dreaming Of Me
Speak & Spell / Sony

…

6.
Depeche Mode / Nodisco
Speak & Spell / Sony

…

7.
Tellavision & Derya Yildirim / Hayda
Hayda / Katschma (Single) / Hans E. Platte

…

8.
M¥Ss Keta, Priestess, Populous / Diana
El Cielo Non E Un Limite / Island Records

…

9.
Douniah, High John / Like That
Dream Baby / Melting Pot Music

…

10.
Working Men's Club / Tomorrow
Working Men's Club / Heavenly Recordings

…

11.
Einstürzende Neubauten / Tanz Debil
Kollaps / Potomak

…

12.
Einstürzende Neubauten / Schmerzen Hören
Kollaps / Potomak

…

13.
Odd Beholder / Disaster Movies
Sunny Bay / Sinnbus

…

14.
Audiobooks / The English Manipulator
Astro Tough / PIAS

…

15.
Pip Blom / Keep It Together (Ludwig A.F. Under Pressure Mix)
Keep It Together Remixes / Heavenly Recordings

…