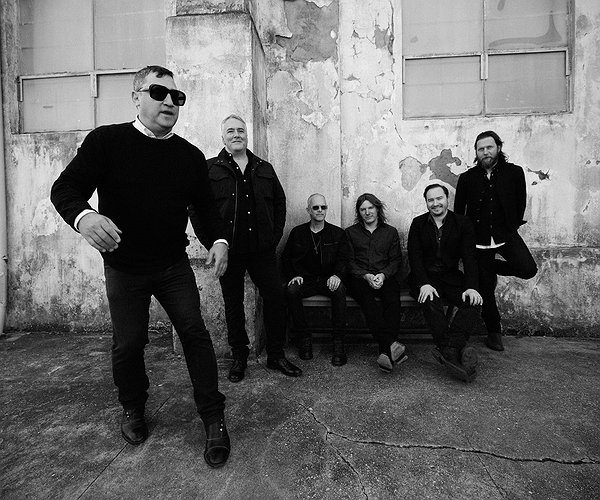 Garage-Punk, Grunge, Post-Punk, Alternative Rock, Soul – aus all diesen Genres speist sich der Sound der US-Band
The Afghan Whigs
. Gegründet 1986 in Cincinnati, Ohio blickt die Formation nach mehr als 30 Jahren auf einige Höhen und Tiefen zurück – inklusive Trennung im Jahr 2001 und Reunion fünf Jahre später.
Im September 2022 veröffentlicht die Band um Sänger Greg Dulli mit "How Do You Burn?" ihr nunmehr neuntes Studioalbum. Vorab kommen The Afghan Whigs bereits für einige Konzerte nach Deutschland:
26.07.22 Frankfurt am Main – Batschkapp
30.07.22 Berlin – Metropol
05.08.22 Hamburg – Uebel & Gefährlich
08.08.22 Stuttgart – Im Wizemann
09.08.22 Köln – Luxor
28.10.22 München – Freiheitshalle
Vor ihrem Konzert in Hamburg im Uebel & Gefährlich sind The Afghan Whigs zu Gast im ByteFM Magazin bei Niklas Holle.
Weitere Ausgaben von ByteFM Magazin
Playlist
1.
Sofie & Miss World / Melody (feat. Peanut Butter Wolf)
Melody / Stones Throw Records

…

2.
Nelson Brandt / Schadstoffe
Knalleffekt / Growing Bin

…

3.
Ghostpoet / X Marks The Spot
Shedding Skin / PIAS

…

4.
Blu DeTiger + Biig Piig / Crash Course
Crash Course (Single) / Blu DeTiger / UMG

…

5.
Habibi / Nice
Nice (Single) / Kill Rock Stars

…

6.
Simi / Logba Logba
TBH (To Be Honest) / Studio Brat / Mad Solutions

…

7.
Hot Chip / Freakout/Release
Freakout/Release (Single) / Domino

…

8.
Warpaint / Champion (Radio Edit)
Champion (Single) / Virgin

…

9.
Beyoncé / Break My Soul
Renaissance / Parkwood Entertainment / Columbia

…

10.
Ramones / I Wanna Be Your Boyfriend
Hey! Ho! Let's Go! The Anthology [Disc 1] / Rhino

…

11.
The Feelies / The High Road
The Good Earth / Rough Trade

…

12.
Philip Lassiter / Poof
Live In Love / Delta Music Media

…

13.
The Guess Who / Sour Suite
So Long, Bannatyne / RCA

…

14.
The Guess Who / Life In The Bloodstream
So Long, Bannatyne / RCA

…

Stunde 2:
1.
Sleaford Mods / Mork N Mindy
Spare Ribs / Rough Trade

…

2.
Stella / Charmed
Up And Away / Sub Pop

…

3.
New Order / Tutti Frutti (Radio Mix)
Tutti Frutti (Single) / Mute / GoodToGo

…

4.
Afghan Whigs / A Line Of Shorts
A Line Of Shorts (Single)

…

5.
Afghan Whigs / The Getaway
The Getaway (Single)

…

6.
Afghan Whigs / I'll Make You See God
I'll Make You See God (Single)

…

7.
Frankie Cosmos / Sand
Fit Me In / Bayonet Records

…

8.
Spice Girls / Stop
Spiceworld / Virgin

…

9.
Matthew Herbert / Everything's Changed
Goodbye Swingtime / Accidental

…

10.
Zwanie Jonson / The Hook
We Like It / Fun In The Church

…

11.
Mc Yallah + Debmaster / Dunia
Kubali / Hakuna Kulala

…

12.
Makin' Time / Feels Like It's Love
Rhythm And Soul / Acid Jazz

…

13.
Robert Mitchum / What Is This Generation Coming To?
What Is This Generation Coming To? (Single) / Capitol

…

14.
A Tribe Called Quest / Can I Kick It?
People's Instinctive Travels And Paths Of Rhythm / Jive / Zomba

…

Stunde 3:
1.
Lionel Richie / Running With The Night
Running With The Night (Single) / Motown

…

2.
Toto / Rosana
Rosana (Single) / CBS Columbia

…

3.
Wilma Archer / Last Sniff (feat. MF Doom)
Last Sniff (Single) / Domino

…

4.
The Raveonettes / Attack Of The Ghost Rider
Attack Of The Ghost Rider (Single) / Columbia

…

5.
Jennifer Lara / I Am In Love
Studio One Women / Soul Jazz Records

…

6.
Pink Floyd / Candy And A Currant Bun
Arnold Layne / Candy And A Currant Bun (Single) / Tower

…

7.
Nick Drake / River Man
Five Leaves Left / Island Records

…

8.
Daphne Dash / Empress
Empress / Cutcha Radio Up Productions

…

9.
Dreya Mac / Time
Time - A Colors Show (Single)

…

10.
Badly Drawn Boy / Once Around The Block
Once Around The Block / XL Recordings

…

11.
The Last Dance / I'm Your Stalker
I'm Your Stalker (Single) / Bandcamp

…

12.
Dntel / (This Is) The Dream Of Evan And Chan (Superpitcher Kompakt Remix)
Life Is Full Of Possibilities / Sub Pop

…