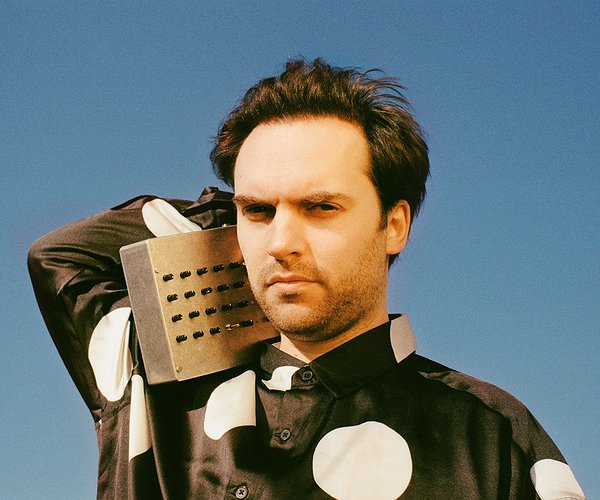 Der britische Musiker Samuel Eastgate alias LA Priest startete seine musikalische Karriere 2004 als Gründungsmitglied der englischen Dance-Punk-Band Late Of The Pier, bei der er unter anderem den Gesang übernahm. Nach Auflösung der Band im Jahr 2010 zog er sich zunächst nach Grönland zurück und veröffentlichte erst 2015 wieder neue Musik unter dem Name LA Priest.
Nach dem Debütalbum "Inji" folgte 2020 das Album "GENE", für das er vor allem für seine Drumcomputer-Sounds große Aufmerksamkeit erhielt und Anfragen zu seiner Expertise beim Bau von Synthesizern aus der ganzen Welt eintrafen. Um in Belize an einer Drum Machine zu arbeiten, brach er in Richtung Mittelamerika auf, strandete allerdings wegen der Covid-Reisebeschränkungen in Mexiko. Daraufhin entschied er sich, dort unter minimalistischen Bedingungen neue Musik aufzunehmen.
Im Mai 2023 erschien das Ergebnis: Die aktuelle Platte "Fase Luna", die tatsächlich gänzlich ohne Synthesizer auskommt und auf der die Drum Machines kurzerhand durch den mexikanischen Schlagzeuger Carlos Gabriel Favela ersetzt wurden. Mit den neuen Songs ist LA Priest auf Tour durch Deutschland – präsentiert von ByteFM:
26.09.23 Berlin – Privatclub
27.09.23 Hamburg – Hebebühne
Vor seinem Konzert in Hamburg ist LA Priest zu Gast bei Nils Lagoda im ByteFM Magazin.
(Foto: Matilda Hill-Jenkins)
Weitere Ausgaben von ByteFM Magazin
Playlist
1.
Boulevards / How Do Ya Feel
How Do Ya Feel (Single) / Normaltown Records

…

2.
Mighty Duke & The Lords / Obama
Caribbean Rollerama / Bamboo HQ

…

3.
Pet Shop Boys / Can You Forgive Her?
Very / Parlophone Records

…

4.
Nirvana / Very Ape
In Utero / Geffen Records

…

5.
Marci / Immaterial Girl
Immaterial Girl (Single) / Arbutus

…

6.
Alex Lahey / Newsreader
Newsreader (Single) / Liberation Records

…

7.
Men I Trust / Billie Toppy
Billie Toppy (Single) / Men I Trust

…

8.
Girl Ray / Everybody's Saying That
Prestige / Moshi Moshi

…

9.
James Blake / Loading
Playing Robots Into Heaven / UMG Recordings

…

10.
Devendra Banhart / Nun
Flying Wig / Mexican Summer

…

11.
Temmis / Andere Stadt
Wenn Du Da Bist / Temmis/Warner

…

12.
Sly & Robbie / Night Nurse (feat. Simply Red)
Friends / Taxi Records

…

13.
Grace Jones / Private Life
Warm Leatherette (Deluxe) / Island Records

…

14.
M. Byrd / Flood
The Seed / Nettwerk Music Group

…

15.
Everything But The Girl / Nothing Left To Lose
Fuse / Buzzin' Fly / Virgin

…

16.
Crumb & Melody's Echo Chamber / Le Temple Volant
Le Temple Volant (Single) / Crumb Records

…

17.
Caroline Rose / Jeannie Becomes A Mom
Loner / New West Records

…

18.
Debby Friday / So Hard To Tell
So Hard To Tell (Single) / Sub Pop Records

…

19.
Art Feynman / All I Can Do
All I Can Do (Single) / Western Vinyl

…

20.
LA Priest / It's You (Radio Edit)
It's You (Single) / Domino

…

21.
LA Priest / Ocean
Fase Luna / Domino

…

22.
LA Priest / What Moves
Gene / Domino

…

23.
LA Priest / Sail On
Fase Luna / Domino

…

24.
Ansu / Stell Dir Vor
Stell Dir Vor (Single) / Ansu

…

25.
Haim / The Wire
Days Are Gone / Polydor Records

…

26.
Taylor Swift / No Body, No Crime (feat. Haim)
Evermore / Taylor Swift

…

27.
Ini Kamoze / World A Music
Ini Kamoze / Taxi

…

28.
Damian "Jr. Gong" Marley / Welcome To Jamrock
Welcome To Jamrock / Universal Records

…

29.
Kelela / Contact
Raven / Warp

…

30.
Dexys / The One That Loves You
The Feminine Divine / 100% Records

…

31.
Sofie Royer / Baker Miller Pink
Baker Miller Pink (Single) / Stones Throw

…

32.
Casper / Ganz Schön Okay (feat. Kraftklub)
Hinterland / Four Music

…

33.
Penelope Isles / Terrified
Which Way To Happy / Bella Union

…

34.
Culk / Flutlicht
Flutlicht (Single) / Siluh Records

…

35.
Otis Redding, Jack Johnson, Aloe Blacc / Sittin' On The Dock Of The Bay

…

36.
Tristan Brusch / Am Herz Vorbei
Am Wahn / Tautorat Tonträger

…

37.
Françoise Hardy / Rêver Le Nez An L'Air
Message Personnel / Warner

…

38.
Lorde / Royals
The Love Club EP / Universal

…

39.
Lettuce / Checker Wrecker (feat. Jungle Boogie & Big Tony)
Resonate / Round Hill Records

…

40.
Kylie Minogue / Sensitized
X / Parlophone Records

…

41.
Serge Gainsbourg / Aux Armes Et Caetera
Aux Armes Et Caetera / Mercury Music Group

…

42.
Bob Marley & The Wailers / Jamming
Legend / Island

…

43.
Brandon Coleman / Blast Off
Blast Off (Single) / Brainfeeder

…

44.
Lucia Cadotsch / No Apology (feat. Phil Donkin, James Maddren & Kit Downes)
AKI / Heartcore Records

…

45.
Joe Goddard / Make It Right (feat. Betsy)
Endless Love / Greco-Roman

…