Container
Berlin Indie Pop Days mit Kathy Twinem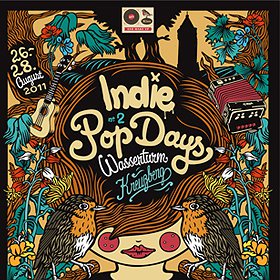 Am kommenden Wochenende finden zum zweiten Mal die Berlin Indie Pop Days am Kreuzberger Wasserturm statt.
Mit dabei sind u.a. Woodpigeon (
CAN
), Darren Hanlon (AUS), Wake The President (UK), Young Wrists (ITA) und
The Wave Pictures
(UK) .
Kathy Twinem stellt Euch in dieser Stunde das Festival und Bands vor, die bei dem Festival spielen werden. Aber Ihr werdet auch ein paar Indiepop-Klassiker wie
The Pastels
oder Another Sunny Day hören. Ganz im Sinne der Pooh Sticks: "Indiepop ain't Noise Pollution".
http://indiepopdaysberlin.blogspot.com/
Weitere Ausgaben von Container
Playlist
1.
The Pastels / Truck, Train, Tractor
12" / Glass Records

…

2.
Another Sunny Day / Anorak City
Flexi / Sarah Records

…

3.
Television Will Keep Us Apart / Parents House In '99
N/A / Series Two Records

…

4.
White Wishes / Come And Say Hello
Come And Say Hello / Shelflife Records

…

5.
Sundae / Alarma Nuklear / Self-Released

…

6.
Woodpigeon / Home As A Romanticized Concept Where Everyone Love You Always And Forever
Songbook / End Of The Road

…

7.
Secret Cities / Love Crime
Strange Hearts / Western Vinyl

…

8.
Darren Hanlon / All These Things
I Will Love You At All / Candle Records

…

9.
Clay Hips / Failure

…

10.
The Fairways / Rain Fell Down
This Is Farewell / Shelflife

…

11.
Stereolab / French Disco
Oscillons From The Anti-Sun / Too Pure/Beggars Group

…

12.
Young Wrists / July 1986

…

13.
Kristallin / Flashback
12" / Marsh Marigold

…

14.
The Pooh Sticks / Indiepop Ain't Noise Pollution
12" / Fierce Recordings

…

15.
The Wave Pictures / Leave The Scene Behind
Instant Coffee Baby / Cooperative

…