Electro Royale Do it the hard way!

(18.05.2019)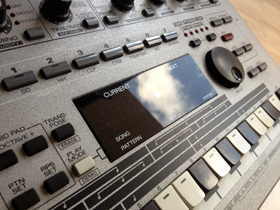 Ausgabe vom 18.05.2019: Do it the hard way!
Hören
Er donnert ein bisschen in dieser neuen Ausgabe von Electro Royale. Schuld ist Charlotte de Witte. Aber es wid auch sehr schön. Was zum Beispiel an Modular Project liegt. Und dann haben noch Dansor, Fadi Mohem und sogar die Band Foals ein Wörtchen mitzureden.

Wenn das mal keine feine Feier ergibt!
Weitere Ausgaben von Electro Royale
Playlist
1.
Agnesca / Bilimbi
Digital Kabar / Infine
2.
Modular Project / Another Glimpse (Fairmont Remix)
Alphaville EP / Nothing Is Real
3.
Foals / In Degrees (Purple Disco Machine Remix)
In Degrees / Warner
4.
Komfortrauschen / Reflex
Kolben / Mechantronik EP / Springstoff
5.
Komfortrauschen / Bolzen
Kolben / Mechantronik EP / Springstoff
6.
Fadi Mohem / CX Sketch
Perception EP / Seilscheibenpfeiler
7.
The Bay / Horn (Feat. Joy Tyson)
Kybela EP / Springstoff
8.
Sebastian Gummersbach / Lights Out
You Brought Light Into Darkness / Mauke Signature
9.
Timothy Clerkin / Akathisia
Unborn EP / Ransom Note Records
10.
Daso / X-Rays
Forever / Connaisseur Recordings
11.
Boogzbrown / Timbila
Digital Kabar / Infine
Stunde 2 :
1.
Max Cooper / Lovesong (Brecon Remix)
One Hundred Billion Sparks Remixed / MESH
2.
Tim Glaser / Human
Human EP / Breadmaker
3.
Tamarak / Twilight Mist
Twilight Mist / Woodwork Recordings
4.
Tvardovsky / Depths Of Consciousness
Depths Of Consciousness / Dear Deer Records
5.
Tvardovsky / Millenium Falcon
Depths Of Consciousness / Dear Deer Records
6.
Dansor / It Would Take An Army (Kassette Remix) (Feat. Ghost Wars)
It Would Take An Army EP / Dear Deer Records
7.
Charlotte De Witte / This
Heart Of Mine EP / Suara Music
8.
The White Shadow / Side
Astral EP / Dear Deer Records
9.
Jay Shepard / Heat, Nothingness & Unification (Modular Project Remix)
Heat, Nothingness & Unification (Modular Project Remix) / Nothing Is Real
10.
Oskar Szafraniec / Floating
Floating / Traum Schallplatten