Electro Royale And the Beat goes on!

(30.05.2020)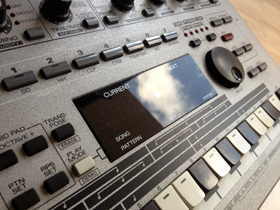 Ausgabe vom 30.05.2020: And the Beat goes on!
Hören
Wenn man nicht in den Club gehen kann, muss der Club eben zu einem nach Hause kommen!

Die neue Ausgabe von Electro Royale heute mit Harem Tone, Andy Stott, Rachel Raw, Mila Journee, Robag Wruhme und vielen anderen. Sei ein Gewinner, sei dabei!
Weitere Ausgaben von Electro Royale
Playlist
1.
Dirk Sid Eno / Maafushi
Elysium / Dantze
2.
Jokasti / Terr Atcha
Silver Lining / Prodigal Son
3.
Hamdi Ryder / Oh God Oh God (Space Mix)
T.U.G.S. EP / Eddisco
4.
Rone / Gingko Biloba
Room With A View / inFine
5.
Pablo Splice / Psionic
Do The Work EP / Woodwerk Recordings
6.
Sébastien Tellier / Domestic Tasks
Domesticated / Record Makers
7.
Andy Stott / First Night
Too Many Voices / Modern Love
8.
Ante Perry / Quarantine
Quarantine / Be An Ape
9.
T.M.A. / Schwärmer (Kalipo Remix)
Day Schwaermer / Dantze
10.
Mila Journee / Explosion
Explosion / Ritter Butzke Studio
Stunde 2 :
1.
Unkle / In A State (DFA Remix)
Self Defence Never, Never Land Reconstructed / Global Underground
2.
James Trystan / Mosaic (Sezer Uysal Remix)
Utopia Remixes / Dear Deer Records
3.
Cyril Awakens / Ghost (Josu Mämmi Remix)
Intermezzo EP / Chaos Lab Records
4.
Tudor Acid / Waypoint
The Pier / EPM
5.
Rachel Raw / Kaws
Kaws / Jaw Dropping
6.
Harem Tone / Old Hat
The End / Jay Riordan
7.
Harem Tone / A.B.S.
The End / Jay Riordan
8.
Robag Wruhme / Calma Calma
Speicher 115 / Kompakt
9.
Wo-Core / SpiderCat
Fenix / Dear Deer