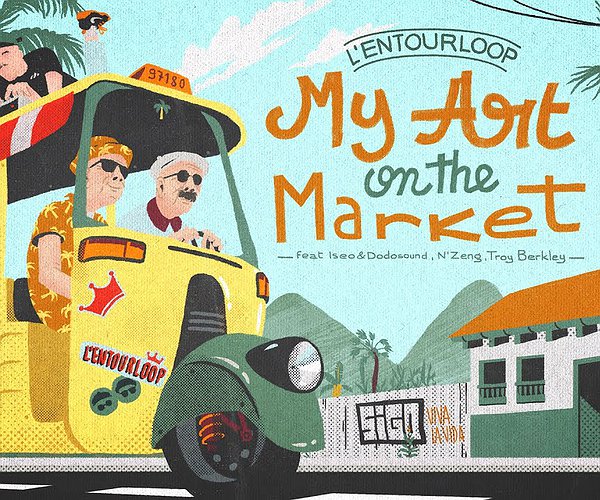 King James und Sir Johnny sind die beiden etwas kauzigen Köpfe des mysteriösen französischen Projekts L'Entourloop. Öffentlich treten sie lediglich mit Masken in Erscheinung und sehen aus wie Opas. Musikalisch vermengen sie gerne
HipHop
mit Reggae oder Dub. Aktuell haben sie sich dem Track "My Art On The Market" von Iseo & Dodosound angenommen und einen feinen Remix zusammen mit Troy Berkley in die Welt geschickt. Den bekommt Ihr in der heutigen Sendung zu hören.
Neu ist auch das Album "Nyabingi Resurrection" des Nilotika Cultural Ensembles. Nyabingi-Rhythmen aus Afrika werden darauf in einer sehr ursprünglichen Form präsentiert. Klänge, die man so auch aus Jamaika kennt.
Ansonsten sind Marcus Gad, Zion Train, Meta & The Cornerstones und andere mit dabei.
Weitere Ausgaben von Forward The Bass
Playlist
1.
Nilotika Cultural Ensemble / Jajji Alimuffe
Nyabingi Resurrection / Switchstance Recordings

…

2.
Nilotika Cultural Ensemble / Ghetto People
Nyabingi Resurrection / Switchstance Recordings

…

3.
Nilotika Cultural Ensemble / Oli Kibun
Nyabingi Resurrection / Switchstance Recordings

…

4.
Meta And The Cornerstones / Majesty
DIA / VPAL Music

…

5.
Meta And The Cornerstones / Riser
DIA / VPAL Music

…

6.
Meta And The Cornerstones / Love In The Ghetto
DIA / VPAL Music

…

7.
Marcus Gad meets Tamal / From The Ashes
Brave New World / Easy Star Records

…

8.
Roots Organisation / Wicked Dub
Strictly Recreational / Roots Organisation

…

9.
Alton Ellis & The Flames / Rock Steady
This Is Trojan Rocksteady / Trojan Records

…

10.
L'Entourloop meets Iseo & Dodosound / My Art On The Market (feat. Troy Berkley)
My Art On The Market (Single) / X-Ray Production

…

11.
XL Mad / Badman Chronicles (Escape Roots Mix)
Nice Up! The Session Vol. 7 / Nice Up! Records

…

12.
Zenzile & Hightone / Disobey (feat. Jolly Joseph)
Zentone Chapter 2 / Jarring Effects

…

13.
Zenzile & Hightone / Hotter Than Dub
Zentone Chapter 2 / Jarring Effects

…

14.
Zion Train & Prince Jamo / Politricks (Baodub Remix)
Illuminate Remixes / Moonshine Recordings

…