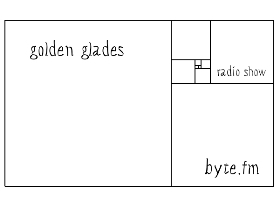 Die Aussichten für Golden Glades sind heiter bis wolkig. Über Westschottland liegt ein stabiles Hochdruckdruckgebiet, das nur durch melancholische Regenintermezzi unterbrochen wird: Der klassisch geschulte
C Duncan
präsentiert mit "Alluvium" erneut seine schwelgerischen und texturreichen Klänge.
Dem perfekten Pop dicht auf der Spur bleiben David Scott und seine Band The Pearlfishers, von denen einige Alben neu als Doppel-Vinyl erhältlich sind. Und die Glasgower Indie-Darlings
Belle And Sebastian
legen nach sieben Jahren ein neues Studioalbum vor, das selbst an grauen Tagen eine Portion Trost zu spenden vermag.
Weitere Ausgaben von Golden Glades
Playlist
1.
Belle & Sebastian / Unnecessary Drama
A Bit Of Previous / Matador

…

2.
The Smiths / Bigmouth Strikes Again
The Queen Is Dead / Rough Trade

…

3.
David Long & Shane O'Neill / Bruised
Age Of Finding Stars / Country Pylon Recordings

…

4.
The Stroppies / I'm In The Water
Levity / Tough Love

…

5.
The Wave Pictures / Blink The Sun
When The Purple Emperor Spreads His Wings / Moshi Moshi

…

6.
Melody's Echo Chamber / Emotional Eternal
Emotional Eternal / Domino

…

7.
C. Duncan / You Don't Come Around
Alluvium / Bella Union

…

8.
C. Duncan / Heaven
Alluvium / Bella Union

…

9.
Eliza Niemi / Murphys
Murphys (Single) / Tin Angel Records

…

10.
Martin Courtney / Corncob
Corncob (Single) / Domino

…

11.
The Pearlfishers / Up With The Larks
Up With The Larks / Marina Records

…

12.
The Pearlfishers / Always Running Away
Up With The Larks / Marina Records

…

13.
Sorry / There's So Many People That Want To Be Loved (Radio Edit)
There's So Many People That Want To Be Loved (Single) / Domino

…

14.
Man Behind Tree / California Zephyr
3 / Subjangle

…

15.
Spiritualized / Best Thing You Never Had
Everything Was Beautiful / Bella Union

…

Stunde 2:
1.
Bart Davenport / Wireless Moon
Episodes / Tapete Records

…

2.
Die Sterne / Alles Was Ich Will
Alles Was Ich Will (Single) / Pias

…

3.
The Boys With The Perpetual Nervousness / Look Back
The Third Wave Of… / Bobo Integral

…

4.
Astrel K / Flickering I
Flickering I / Duophonic

…

5.
Ghost Power / Zome Primer
Ghost Power / Duophonic

…

6.
Dana Gavanski / Bend Away And Fall
When It Comes / Full Time Hobby

…

7.
Robert Wyatt / Just As You Are
Different Every Time / Domino

…

8.
Noth / Zoo
Die Wahrheit Über Arndt / Backseat

…

9.
Noth / Waldbad
Die Wahrheit Über Arndt / Backseat

…

10.
Butcher Boy / Dear John
You Had a Kind Face / Needle Mythology

…

11.
The Muldoons / Audacity
Audacity (Single) / Last Night From Glasgow

…

12.
Built To Spill / Gonna Lose
Gonna Lose (Single) / Sub Pop

…

13.
Kathleen Hanna / Erica Dawn Lyle / Vice Cooler / Mirrorball
Mirrorball (Single) / Bandcamp.com

…

14.
Slack Times / Look At You
Carried Away / Meritorio

…

15.
The Magic Lantern / Enough
A Reckoning Bell / Hectic Eclectic Records

…

16.
Charles Watson / Reared In The West
Figure Skater / Moshi Moshi

…