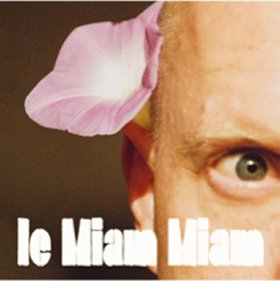 Ausgabe vom 23.10.2014: Le MiamMiam All That Jazz
Zum mittlerweile 14. Mal bei byteFM tischt Le MiamMiam diesmal "All That Jazz...
Can
Dance" auf. Also: "Why don't we
paint
the town?" will US Stand-up-Comedian und Jazzsängerin Lea Delaria wissen. Count Basie drückt ordentlich auf die Tube mit seiner Version von "Hang On Sloopy". Von dem Stück, benannt nach der Jazzsängerin Dorothy Sloop, sollen einschließlich aller Coverversionen etwa 10 Millionen Platten verkauft worden sein - inklusive der kölschen Version von BAP. Die Visitenkarten von Mr. Hi-De-Ho Cab Calloway ("Minnie The Moucher") und Glenn Miller ("In The Mood" - hier "Edmundo") erhalten von Bobby Darin und Sambakönigin Elsa Soares eine Frischzellenkur ebenso wie Lester Young's "Tickle Toe" (hier "Le Racket Et Les Balles") von den Vokalartisten "Double Six" aus Frankreich. Wie letztere beherrschten auch Lambert, Hendricks & Bavan perfekt das Nachsingen von kompletten Bigband Arrangements inklusive der Instrumentalsolos, hier vertreten mit "Deedle-Lee Deedle-Lum". Thelonious Sphere Monk fasst das ganze Treiben mit den Worten von Duke Ellington zusammen: "It Don't Mean a Thing (If It Ain't Got That Swing)".
Weitere Ausgaben von Groove Crates
Playlist
1.
All That Jazz / Lea Delaria
Play It Cool / Warner Bros.

…

2.
Hang On Sloopy / Count Basie And His Orchestra
Basie's In The Bag / Brunswick

…

3.
Minnie The Moucher / Bobby Darin
7'' / ATCO

…

4.
Edmundo / Elza Soares
Baterista: Wilson Das Neves / Odeon

…

5.
Nothing For Nothing / Mongo Santamaria
Mongo At The Village Gate / Riverside

…

6.
Just One Of Those Things / Sarah Vaughan
Sassy Swings The Tivoli / Mercury

…

7.
No Smokin' / Horace Silver
The Stylings Of Silver / Blue Note

…

8.
Mr. Kicks / Oscar Brown Jr.
Between Heaven And Hell / Columbia

…

9.
Mambo With Moody / James Moody And His Band
Moody's Workshop / Prestige

…

10.
Jazz Jump / King Pleasure
Mr. Jazz / United Artists

…

11.
Something Different / Cannonball Adderley
African Waltz / Riverside

…

12.
Tickle-Toe (Le Racket Et Les Balles) / Les Double Six
Les Double Six / Columbia

…

13.
Bongo Beep / Cecil Payne
Performing Charlie Parker Music / Charlie Parker Records

…

14.
Deedle-Lee Deedle-Lum / Lambert, Hendricks And Bavan
Live At Newport '63 / RCA

…

15.
The Flintstones / Clark Terry
Clark Terry And His Jolly Giants / Vanguard

…

16.
Milestones / Mark Murphy
Rah! / Riverside

…

17.
It Don't Mean A Thing (If It Ain't Got That Swing) / Thelonious Monk
Thelonious Monk Plays Duke Ellington / Riverside

…