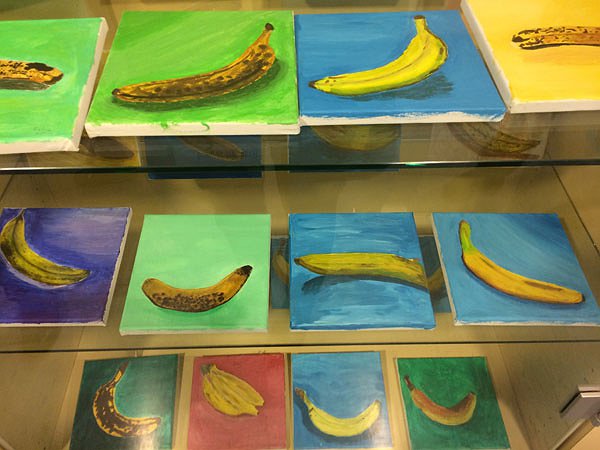 So stand es auf dem ersten Album von
Velvet Underground
. Darauf abgebildet eine Banane auf weißem Hintergrund. Die Banane war ein Aufkleber und offenbarte darunter eine rosa Frucht, wenn man ihn abzog. Gestaltet hatte das Cover Andy Warhol. Doch was hat das mit der heutigen Sendung zu tun? Und warum habe ich diese von Schülern meines ehemaligen Gymnasiums gemalten Bananen fotografiert?
Das erfahrt Ihr, wenn Ihr die Sendung hört – and
yes
, we have no bananas today!
Weitere Ausgaben von Hello Mellow Fellow
Playlist
1.
Graham Mushnik / The Cat – The Beast
A Distant Wildlife / Catapulte Records

…

2.
Nabihah Iqbal / Slowly
Weighing Of The Heart / Ninja Tune

…

3.
The Velvet Underground & Nico / Femme Fatale
The Velvet Underground & Nico / Polydor

…

4.
Twain / Black Chair
Rare Feeling / BB*Island

…

5.
The Saxophones / Fruit Tree
VA - Green Leaves - Nick Drake Covered (Mojo - March 2018) / Full Time Hobby

…

6.
Bobby Wright / Everyone Should Have His Day
7" / Melodies International

…

7.
Beatchild & The Slakadeliqs / California Coastin'
Heavy Rockin' Steady / BBE Records

…

8.
Sound Voyage / Muay Thai Seven
En Route To Thailand / Free Soul Inc.

…

9.
Edu Passeto & Gui Tavares / Fogo Grande
Noite Que Brincou De Lua / Far Out Recordings

…

10.
The Left Banke / Foggy Waterfall
The History Of The Left Banke / Rhino Records

…

11.
Montage / Tinsel And Ivy
Desirée / Bam-Caruso Records

…

12.
Beck / Everybody's Got To Learn Sometime
O.S.T. - Eternal Sunshine Of The Spotless Mind / Hollywood

…

13.
The Sentiments / She Won't Be Gone Long (Inst.)
7" / Transistor Sound

…

Stunde 2:
1.
Cap Kendricks / More Moments
Keepsakes / Melting Pot Music

…

2.
Timber Timbre / Hot Dreams (Absolutely Free Remix)
Remixes / Arts & Crafts

…

3.
Blood, Sweat & Tears / I Love You More Than You'll Ever Know
Child Is Father To The Man / Columbia Records

…

4.
Bremer/McCoy / Drømmer
Enhed / Raske Plader

…

5.
Anne Sylvestre / Grand' Mère
Anne Sylvestre

…

6.
The National Jazz Trio Of Scotland / Heaven Knows
Standards Vol. IV / Karaoke Kalk

…

7.
Fleetwood Mac / Brown Eyes (with Lindsey & Peter Green) [9/20/78 Version]
Tusk (Expanded) / Warner Bros. Records

…

8.
Bobby Oroza / This Love – Part 1
7" / Stylart Records

…

9.
Alex Highton / Getting Fucked Up (It's All You Ever Do)
Welcome To Happiness / BB*Island

…

10.
Jerry Jeff Walker / Will There Be Any
Walker's Collectibles / MCA Records

…

11.
Nap Eyes / Follow Me Down
I'm Bad Now / Jagjaguwar

…

12.
Sunil Ganguly / Ajhoon Na Aye
VA – Bollywood Steel Guitar / Sublime Frequencies

…

13.
Snax / Pillow Town
Shady Lights / Random Records

…

14.
Prince / Mr. Goodnight
Planet Earth / Columbia Records

…