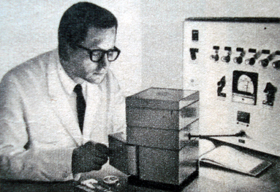 Ausgabe vom 23.01.2010: Run For Covermit Frank Witzel
Hören
Gibt es einen neuen Trend zur Coverversion?
Rufus Wainwright
spielt ein ganzes Judy Garland Konzert notengetreu nach,
Beck
covert die gesamte
Velvet Underground
with Nico, die
Flaming Lips
die komplette Dark Side of the Moon, und die Smithereens spielen von
Beatles
bis
Who
alles nach, was ihnen in den Weg kommt. Nicht länger werden nur einzelne Songs herausgegriffen, sondern ein Gesamtwerk neu interpretiert. Me Myself and Why spielt eine Stunde lang Coverversionen, um zu sehen wie gelungen und innovativ diese Aneignungen wirklich sind.
Mit Beck, Les Claypool, Flaming Lips, den Geschwistern Wainwright und vielen
anderen.
Weitere Ausgaben von Me Myself & Why
Playlist
1.
Les Claypool's Frog Brigade / Shine On Your Crazy Diamond
Live Frogs / Prawn Songs

…

2.
Richard Cheese / Another Brick In The Wall
The Sunny Side Of The Moon / Surfdog Records

…

3.
Flaming Lips / The Great Gig In The Sky
The Dark Side Of The Moon / WEA / Reprise

…

4.
Beck / Waiting For My Man
Velevet Underground With Nico / Record Club

…

5.
Beck / Sunday Morning
Velevet Underground With Nico / Record Club

…

6.
Beck / Susanne
Songs Of Leonard Cohen / Record Club

…

7.
Mike Patton / L'uomo Che Non Sapeva Amare
Mike Patton And Metropole Orchestra

…

8.
Martha Wainwright / C'est À Hambourg
Sans Fusil Ni Souliers / 101 DISTRIBUTION

…

9.
Loudon Wainwright / Mother's Last Farewell Kiss
High Wide And Lonesome / 2nd Story Sound Records

…

10.
Rufus Wainwright And Chris Stills / Harvest
Sounds Eclectic / Palm Pictures

…

11.
Rufus Wainwright And Martha Wainwright / One Man Guy
Poses / Dreamworks

…

12.
Andrew Bird And Nora O'Connor / Oh Sister
Mojo: Dylan Covered / Mojo

…

13.
The Duhks / It's Alright Ma, I'm Only Bleeding
The Village / 429 Records

…