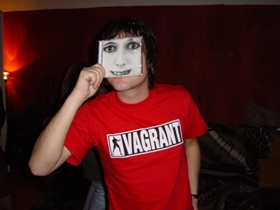 Nachdem sich
Guided By Voices
im letzten Herbst erneut spontan aufgelöst haben, lässt das neue Projekt von GbV-Frontman Robert Pollard nicht lange auf sich warten: Ricked Wicky heißt die Band und ehemalige GbV-Gefährten sind natürlich auch wieder mit im Boot.
Acht Jahre haben sich
Modest Mouse
für ihr neues Album Zeit gelassen. "Strangers to Ourselves" knüpft teilweise an die frühen Tage der Indie-Rocker an.
Nachdem
Courtney Barnett
im letzten Jahr mit ihrer Doppel-EP großen Erfolg hatte, gibt es jetzt mit "Sometimes I Sit and Think and Sometimes I Just Sit" ihr Debüt im Album-Format. Darauf klingt die Australierin weniger Lo-Fi sondern mehr nach Loud-Fi.
Verstörende Sounds sind auf dem neusten Album des Kammerflimmer Kollektiefs zu hören. "Désarroi" klingt sehr dekonstruiert und soundscape-artig.
Weitere Ausgaben von Sunday Service
Playlist
1.
The Wave Pictures / I Could Hear The Telephone
Great Big Flamingo Burning Moon / Moshi Moshi

…

2.
Gods / Topeka Tiger
Gods / Wohnzimmer

…

3.
The Pop Group / Age Of Miracles
Citizen Zombie / Freaks R Us

…

4.
The Monochrome Set / Iceman
Spaces Everywhere / Tapete

…

5.
The Monochrome Set / Oh, You're Such A Star
Spaces Everywhere / Tapete

…

6.
The Go! Team / Blowtorch
The Scene Between / Memphis Industries

…

7.
Twerps / I Don't Mind
Range Anxiety / Merge

…

8.
Courtney Barnett / Pedestrian At Best
Sometimes I Sit And Think And Sometimes I Just Sit / Marathon Artists

…

9.
Courtney Barnett / Depreston
Sometimes I Sit And Think And Sometimes I Just Sit / Marathon Artists

…

10.
Andreya Triana / Gold
Giants / Counter

…

11.
Light FM / Pointless
Pointless EP / Moonboot

…

12.
Prettiest Eyes / Out Of Control
Looks / Aagoo

…

13.
Du Blonde / Black Flag / Mute

…

14.
Romare / Motherless Child
Projections / Ninja Tune

…

Stunde 2:
1.
Travis Bretzer / The Bread
Waxing Romantics / Mexican Summer

…

2.
DNKL / Hunt
Wolfhour EP / Sugarcane

…

3.
Ricked Wicky / Well Suited
I Sell The Circus / Fire

…

4.
Ricked Wicky / Frenzy Of Blame
I Sell The Circus / Fire

…

5.
Beam Up / I Must Be Dreaming
Innerstand / BBE

…

6.
Thief / Broken Boy / Embassy Of Music

…

7.
Modest Mouse / Lampshades On Fire
Strangers To Ourselves / Epic

…

8.
Modest Mouse / Ansel
Strangers To Ourselves / Epic

…

9.
Grandbrothers / Wuppertal
Dilation / Film Recordings

…

10.
Grandbrothers / Arctica
Dilation / Film Recordings

…

11.
Grandbrothers / Rotor
Dilation / Film Recordings

…

12.
Scott Matthew / Constant
This Here Defeat / Glitterhouse

…

13.
Kammerflimmer Kollektiv / Zurück zum Beton
Desarroi / Staubgold

…

14.
Kammerflimmer Kollektiv / Desarroi #3: Burned
Desarroi / Staubgold

…