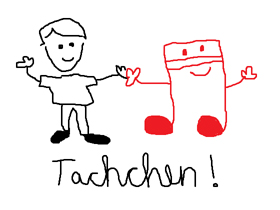 Ausgabe vom 15.03.2017: Grabbel And The Final Cut
Hören
1989 gründet sich in Lüneburg die Band Grabbel And The Final Cut, inspiriert von Künstlern wie The Jesus & Mary Chain oder
My Bloody Valentine
- und sind damals eine der wenigen deutschen Noise-Pop- und Shoegaze-Bands gewesen.
1996 löst sich die Band auf, ohne je ein Album rausgebracht zu haben. Eigentlich das Ende der Geschichte - aber plötzlich veröffentlicht 15 Jahre später das renommierte amerikanischen Indie-Label Captured Tracks (u.a.
Wild Nothing
, Beach Fossils,
DIIV
) eine EP mit einigen Songs aus den frühen Jahren von Grabbel And The Final Cut.
Wie es dazu kam und wie das neue (bzw. erste Album überhaupt) der Lüneburger Band klingt, das sie gerade fertig produziert haben, das hört Ihr in dieser Ausgabe Tachchen Popmusik. Zu Gast: Stefan Zachau, Sänger und Gitarrist von Grabbel And The Final Cut.
Weitere Ausgaben von Tachchen Popmusik
Playlist
1.
Grabbel And The Final Cut / Psycho Popsong
Get Your Feet Back On The Ground (ep) / Captured Tracks

…

2.
Grabbel And The Final Cut / The Pioneer
MMXVI / Grabbel And The Final Cut

…

3.
The Jesus & Mary Chain / Just Like Honey
Psychocandy / Reprise

…

4.
Grabbel And The Final Cut / The Finest Thing
Get Your Feet Back On The Ground / Captured Tracks

…

5.
Grabbel And The Final Cut / Gundula
Electric / Grabbel And The Final Cut

…

6.
Wild Nothing / Live In Dreams
Gemini / Captured Tracks

…

7.
Grabbel And The Final Cut / Out Of Work And On The Dole
Get Your Feet Back On The Ground / Captured Tracks

…

8.
Philipp Boa & The Voodoo Club / Burn All The Flags
Decadence & Isolation / Motor Music

…

9.
Grabbel And The Final Cut / Dreams End Here
MMXVI / Grabbel And The Final Cut

…

10.
The Jesus & Mary Chain / Amputation
Damage & Joy / Artificial Plastic

…

11.
Grabbel And The Final Cut / Blow
MMXVI / Grabbel And The Final Cut

…

12.
Electric Soft Parade / Summertime In My Heart
Idiots / Helium

…

12.
Grabbel And The Final Cut / Gundula
Electric / Grabbel And The Final Cut

…