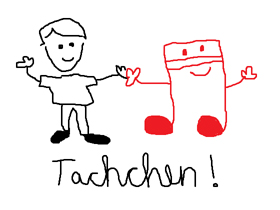 Mit schrägem, psychedelischem LoFi-Pop hat sich das amerikanische Künstlerkollektiv und Plattenlabel Elephant 6 in den 90ern eine riesige Fangemeinde erspielt:
Neutral Milk Hotel
,
The Apples In Stereo
, Beulah,
Of Montreal
- sie alle waren Teil der Elephant 6-Familie. Aber je erfolgreicher das Kollektiv wurde, desto mehr zogen sich seine Mitglieder zurück, bis Elephant 6 Anfang der 2000er von der Bildfläche verschwunden ist.
In den letzten Jahren kam es zu einem kleinen Elephant 6-Revival: Die Musiker des Kollektivs waren gemeinsam auf Tour und machen wieder zusammen Musik, weshalb Tachchen Popmusik heute auf die Geschichte von Elephant 6 schaut, das mit der Idee von vier Schulfreunden aus Louisiana begonnen hat.
Weitere Ausgaben von Tachchen Popmusik
Playlist
1.
Neutral Milk Hotel / The King Of Carrot Flowers Pt. 1
In The Aeroplane Over The Sea / Merge Records

…

2.
Neutral Milk Hotel / In The Aeroplane Over The Sea
In The Aeroplane Over The Sea / Merge Records

…

3.
Neutral Milk Hotel / Two Headed Boy
In The Aeroplane Over The Sea / Merge Records

…

4.
The Apples In Stereo / Tidal Wave
Fun Trick Noisemaker / The Elephant 6 Recording Company

…

5.
Olivia Tremor Control / Jumping Fences
California Demise / The Elephant 6 Recording Company

…

6.
Elf Power / The Arrow Flies Close
When The Red King Comes / Arena Rock

…

7.
The Minders / Hooray For Tuesday
Hooray For Tuesday / spinART Records

…

8.
Of Montreal / Don't Ask Me To Explain
Cherry Peel / Bar/None Records

…

9.
Of Montreal / Bunny Ain't No Kind Of Rider
Hissing Fauna, Are You The Destroyer? / Polyvinyl Records

…

10.
Beulah / I Love John, She Loves Paul
Handsome Western States / The Elephant 6 Recording Company

…

11.
The Essex Green / Everything is Green
Everything Is Green / Kindercore Records

…

12.
Neutral Milk Hotel / Communist Daughter
In The Aeroplane Over The Sea / Merge Records

…

13.
The Apples In Stereo / Skyway
New Magnetic Wonder / Yep Roc Records

…

14.
Olivia Tremor Control / Love Athena
California Demise / The Elephant 6 Recording Company

…

15.
The Gerbils / Glue
Are You Sleepy? / Hidden Agenda

…

16.
The Circulatory System / Yesterday's World
Circulatory System / Cloud Recordings

…

17.
Of Montreal / Paranoiac Intervals/Body Dysmorphia
White Is Relic/Irrealis Mood / Polyvinyl Records

…