Bordermusic
First Cow In The Territory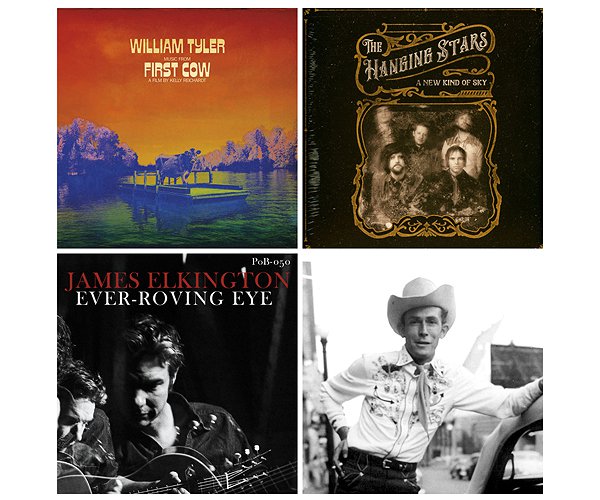 Howdy! Endlich mal wieder etwas Wild West Romantik bei Bordermusic.
Mit dabei: William Tyler und seine Musik zum Film "First Cow", James Elkington mit Vorboten zu seinem im April erscheinenden Album,
Hank Williams
und die Aufnahmen zur Mehl-Werbesendung Mother's Best und die
Gram Parsons
Fans The Hanging Stars aus Südengland.
I´m a poor lonesome cowboy and a long way from home.
Weitere Ausgaben von Bordermusic
Playlist
1.
James Elkington / Late Jim´s Lament
Ever-Roving Eye / Paradise Of Bachelors

…

Chuck Johnson / A Closing
Single / Self Release
3.
The Hanging Stars / Heavy Blue
A New Kind Of Sky / Crimson Crow

…

.
Gram Parsons / In My Hour Of Darkness
Grievous Angel / Reprise

…

.
The Hanging Stars / I Will Please You
A New Kind Of Sky / Crimson Crow

…

.
William Tyler / Cookie´s Theme
Music From First Cow / Merge

…

7.
William Tyler / Arrival
Music From First Cow / Merge

…

8.
William Tyler / Hotel Catatonia
Impossible Truth / Merge

…

9
William Tyler / River Dreams
Music From First Cow / Merge

…

10.
William Tyler / The Seperation
Music From First Cow / Merge

…

11.
James Elkington / Nowhere Time
Ever-Roving Eye / Paradise Of Bachelors

…

12.
Hank Williams / Introduction Lovesick Blues
Pictures from Life's Other Side:the Man and His Music / BMG

…

13.
Hank Williams / I Saw The Light
Pictures from Life's Other Side:the Man and His Music / BMG

…

14.
Hank Williams / Cold Cold Heart
Pictures from Life's Other Side:the Man and His Music / BMG

…

15.
George Jones / You´re Still On My Mind
7" / Mercury

…

16.
McCoy Tyner / Land Of The Lonely
Trident / Milestone

…