BTTB – Back To The Basics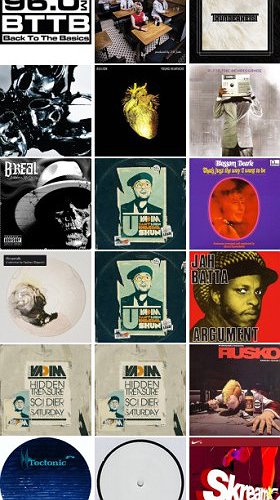 Ausgabe vom 30.04.2009:
DJ Vadim hat seine Augenoperation anscheinend gut überstanden - jedenfalls wartet er mit einem neuen Album auf. "U
Can
't Lurn Imaginashun" wird der Titel sein und drei Tunes könnt ihr heute schonmal hören. Außerdem Alice Russel mit ihrem Cover von "Crazy" von Gnarls Barkley,
Q-Tip
mit einem neuen Song, wir wandern durch das regnerische London und und und. Und sogar
Cypress Hill
tauchen zweimal in völlig unterschiedlichen Zusammenhängen auf. Aber dazu dann in der Sendung mehr.
Weitere Ausgaben von BTTB – Back To The Basics
Playlist
1.
United States Of Audio / BTTB-Intro
Unreleased / BTTB (2003)
2.
Alice Russell / Crazy
Pot Of Gold / Little Poppet (2008)
3.
Thunderheist / Slow Roll
Thunderheist / Big Dada (2009)
4.
Flying Lotus / Camel (Nosaj Thing Remix)
L.A. EP 2 X 3 / Warp (2008)
5.
Bullion / Young Heartache
12" Only / One-Handed (2009)
6.
Q-Tip / Renaissance Rap (Ft. Busta Rhymes, Raekwon & Lil' Wayne)
Mp3 Only / MP3 (2009)
7.
B-Real / Dude vs. Homie (Ft. Xzibit + Young De)
Smoke N Mirrors / Duck Down (2009)
8.
DJ Vadim / That Life (Ft. Juice Lee & Rjay)
U Can't Lurn Imaginashun / BBE (2009)
9.
Blossom Dearie / I Like London In The Rain
That's Just The Way I Want It To Be / Fontana (1970)
10.
Lee Hazlewood / Whole Lotta Shakin' Goin' On
Poet, Fool or Bum / Optimo - Sleepwalk / LHI (1997)
11.
DJ Vadim / Game Tight
U Can't Lurn Imaginashun / BBE (2009)
12.
Jah Batta / Informa (Watch It)
Argument / Wackies (2004)
13.
DJ Vadim / Soldier (Ft. Big Red & 5Nizza)
U Can't Lurn Imaginashun / BBE (2009)
14.
DJ Vadim / Soldier (Instr.)
12" Only / BBE (2009)
15.
Rusko / Sound Guy Is My Target (Ft. Lutan Fyah)
Babylon Vol. 2 / Sub Soldiers (2009)
16.
Skream / Trapped In A Dark Bubble
12" Only / Tectonic (2009)
17.
Switchdubs / Mother From The East
12" Only / Essence Of Dub (2009)
18.
Skream / Galassia
mp3 Only / Nike (2008)