ByteFM Magazin Soft Grid zu Gast

(23.05.2019)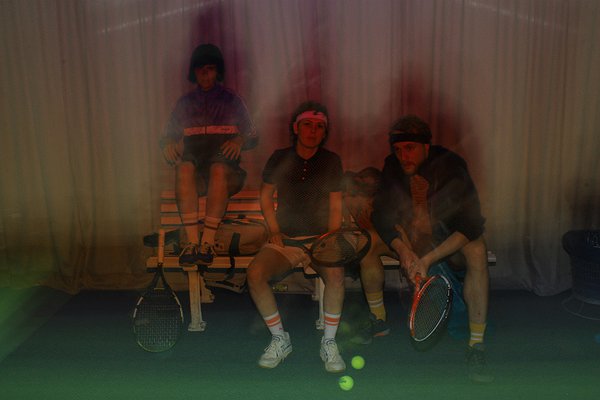 Ausgabe vom 23.05.2019: Soft Grid zu Gast
Hören
Soft Grid halten wenig von konventionellen Songstrukturen. Sich innerhalb eines Songs auf lediglich eine Stimmung zu beschränken, ist dem Berliner Trio zu simpel. Und so kommt es, dass ein Song schon mal elf Minuten lang sein kann, sphärisch-meditativ beginnt und innerhalb von Sekunden in Fuzz-Krach übergeht.
Theresa Stoetges (Gesang, Gitarre, Synthesizer), Jana Sotzo (Gesang, Bass) und Christian Hohenbild (Schlagzeug) machen Musik für die selbst die Bezeichnung Post-Rock noch zu eng ist.
Thematisch geht es ähnlich vielfältig zu: Kanye West-Referenzen, Bezüge zu Werner Herzog und wenn Soft Grid in einem Studio aufnehmen, in dem sich zuvor eine Lungenheilanstalt für Kinder befand, werden diese Räumlichkeiten ebenso zu Lyrics verarbeitet: "Two days locked in the psychic ward / Two hundred kids put their fingerprints all over the place", heißt es in "Hospital Floor".
Mit "Agency" veröffentlichen Soft Grid am 24. Mai ihr zweites Album. Am selben Tag findet der dazugehörige Release-Gig im Urban Spree in Berlin statt. Dieser wird im Rahmen der Reihe
LiveBytes Berlin
von ByteFM aufgezeichnet.
Am 23. Mai sind Soft Grid zudem zu Gast bei Bettina Brecke im Berliner ByteFM Studio.
24.05.2019 Berlin - Urban Spree
Weitere Ausgaben von ByteFM Magazin
Playlist
1.
Bad Hammer / Ghost
Extended Play / Italian Island / Doom Chakra Tapes
2.
Soft Grid / Airplane
Agency / Antime
3.
Cass McCombs / There Can Be Only One
Big Wheel And Others / Domino
4.
Golden Diskó Ship / Fake Horse
Invisible Bonfire / Spezialmaterial Records
5.
Soft Grid / Mother Tongue
Agency / Antime
6.
Soft Grid / Agency
Agency / Antime
7.
Felix Laband / Bag of Bones
Bag of Bones EP / Compost Records
8.
Friends / I'm His Girl
Manifest! / Lucky Number / Cooperative Music
9.
Odd Couple / Westend
Yada Yada / Cargo
10.
Erobique / Urlaub In Italien (Live)
Urlaub In Italien / Überdosis Freude / A Sexy Record
11.
Erobique / Endorphinmachine
Endorphinmachine (Single) / Mirau
12.
The Weeknd (feat. Daft Punk) / I Feel It Coming
Starboy / Universal Republic Records
13.
Ezra Furman / Calm Down aka I Should Not Be Alone
Calm Down aka I Should Not Be Alone (Single) / Bella Union
14.
Lucy Dacus / Addictions
Historian / Matador
15.
Olden Yolk / Grand Palais
Living Theatre / Trouble in Mind
16.
Cate Le Bon / Daylight Matters
Reward / Mexican Summer
17.
Deerhunter / No One's Sleeping
Why Hasn't Everything Already Disappered? / 4AD
18.
Isolation Berlin / Du Hast Mich Nie Geliebt
Und Aus Den Wolken Tropft Die Zeit / Staatsakt
19.
Ingrid Caven / Zimmer in Paris
Der Abendstern / RCA Victor
20.
Matmos / Interior With Billiard Balls & Synthetic Fat
Plastic Anniversary / Thrill Jockey
21.
Prince / I Would Die 4 U
Purple Rain / Warner Bros.
22.
Della Reese / Come On-A My House
Della Della Cha Cha Cha / RCA Victor
23.
Methyl Ethel / Ubu
Ubu (Single) / 4AD
24.
Delvon Lamarr Organ Trio / Little Booker T
Close But No Cigar / Colemine Records
25.
Toby Goodshank / Baby I Feel Like I Just Got Cut In Half
New York / Olive Juice Music
26.
Kaitlyn Aurelia Smith / An Intention (Cumulonimbus Remix by Joe Goddard)
An Intention (Single) / Western Vinyl