ByteFM Magazin Bernd Jonkmanns zu Gast

(15.10.2020)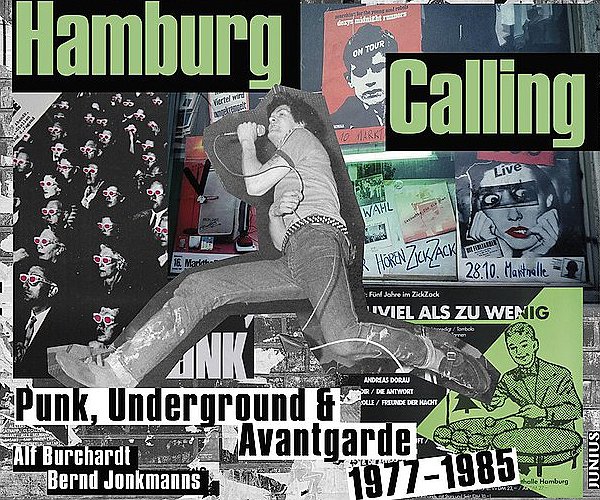 Ausgabe vom 15.10.2020: Bernd Jonkmanns zu Gast
Hören
Das Album "London Calling" von
The Clash
von 1979 gilt als eines der wichtigsten Punkalben aller Zeiten. Während die berühmte Londoner Band neben Bands wie
Ramones
oder The Birthday Party auch in Hamburg spielte, hatte die Hansestadt mit Razors, The Buttocks oder Coroners allerdings auch ihre eigenen Bands.
Das Buchprojekt "Hamburg Calling – Punk, Underground & Avantgarde 1977-1985" widmet sich beiden Fraktionen gleichermaßen und erzählt anhand von Bildern und Archivmaterial aus Fanzines, Plakaten, Eintrittskarten und Schallplatten von den spannendsten Jahren im musikalischen Untergrund der Stadt.
Der Fotograf Bernd Jonkmanns, mitverantwortlich für das Projekt, ist heute zu Gast im ByteFM Magazin bei Christa Herdering.
Weitere Ausgaben von ByteFM Magazin
Playlist
1.
David Bowie / Sound And Vision
Low / Parlophone
2.
Erregung Öffentlicher Erregung / Kapitän
Erregung Öffentlicher Erregung / Schlappvogel Records
3.
White Wine / Zeitgeist Plagiarist
Who Cares What The Laser Says? / This Charming Man Records
4.
Bonobo / Eyesdown (Machinedrum Remix)
Black Sands Remixed / Ninja Tune
5.
James Blake / Before
Before / Universal
6.
Mildlife / Vapour
Automatic
7.
Greentea Peng / Hu Man
Hu Man (Single) / Caroline International
8.
Billie Eilish / No Time To Die
9.
Sufjan Stevens / Video Game
The Ascension / Asthmatic Kitty
10.
Loyle Carner / Ottolenghi (feat. Jordan Rakei)
Ottolenghi (Single) / AMF
11.
Herzog / Macht Berlin schöner
13.
Hollie Cook / Sweet Like Chocolate
Sweet Like Chocolate (Single) / Merge
14.
The Clash / The Guns Of Brixton
London Calling / Sony
Stunde 2:
1.
Abwärts / Maschinenland
Amok Koma / Zickzack
2.
Palais Schaumburg / Wir bauen eine neue Stadt
Palais Schaumburg / Bureau B
3.
Mark Ronson feat. Miley Cyrus / Nothing Breaks Like A Heart
Nothing Breaks Like A Heart / Columbia
4.
Thundercat / Black Qualls (feat. Steve Lacy + Steve Arrington)
Black Qualls (Single) / Brainfeeder
5.
Frank Ocean / Lost
Channel Orange / Island Records
6.
The Flaming Lips / Mother I've Taken LSD
American Head / Bella Union
7.
Machinedrum / Spin Blocks (feat. Father)
A View of U / Ninja Tune
8.
DJ Shadow / Six Days (Machinedrum Remix)
The Liquid Amber EP / A&M Records
9.
Eels / Last Stop: This Town
Electro-Shock Blues
10.
Elvis Perkins / Ash Wednesday
Ash Wednesday
11.
James Blake / I Keep Calling
Before / Universal
Stunde 3:
1.
The Orielles / Space Samba (Disco Volador Theme)
Disco Volador / Heavenly Recordings
2.
Drab City / Hand On My Pocket
Hand On My Pocket / Bella Union
3.
Ride / Dreams Burn Down
Nowhere / Creation Records
4.
Ride / Vapour Trail
Nowhere / Creation Records
5.
The Go-Betweens / Streets of Your Town
16 Lovers Lane / Beggars Banquet
6.
Klaus Johann Grobe / Downtown
Downtown (Single) / Klaus Johann Grobe
7.
International Music / Mama Warum? / Staatsakt
8.
Ginuwine / When Doves Cry
Ginuwine… The Bachelor / Sony
9.
Ginuwine / Pony
Ginuwine… The Bachelor / Sony
10.
Darkstar / Jam
Civic Jams / Warp
11.
The Moonglows / Sincerely
Blue Velvet/The Ultimate Collection / UMG
12.
The Moonglows / Twelve Months Of The Year
Blue Velvet/The Ultimate Collection / UMG
13.
Benny Sings / Rolled Up feat. Mac DeMarco
Rolled Up feat. Mac DeMarco
14.
Forest Law / New Thought New Eyes
New Thought New Eyes (Single) / Brownswood