ByteFM Magazin
Good Sad Happy Bad & Dice Festival zu Gast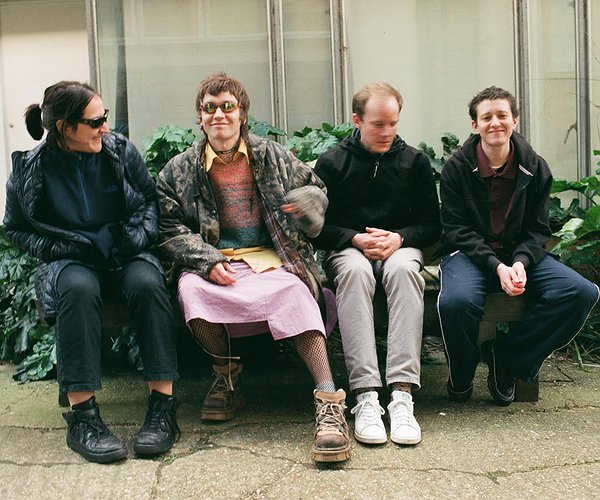 Unser aktuelles Album der Woche kommt von Good Sad Happy Bad. Benannt haben sie sich nach ihrem letzten Album, das sie 2015 noch unter ihrem Namen
Micachu
& The Shapes veröffentlicht hatten. Vor kurzem haben sie sich dann mit einer neuen Single und neuem Namen zurückgemeldet.
"
Shades
" heißt das neue Album, das am vergangenen Freitag beim französischen Label Textile Records erschienen ist. Mica Levi ist auf diesem Album ein bisschen mehr in den Hintergrund gerutscht und überlässt Raisa Khan den Lead-Gesang. Mit CJ Calderwood haben sich Good Sad Happy Bad außerdem am Saxofon und der Blockflöte um ein Bandmitglied erweitert.
Anlässlich der Veröffentlichung des neuen Albums sind Good Sad Happy Bad heute zu Gast zum Interview bei Friederike Herr.
Vom 26.-31. Oktober findet in Berlin das Dice Festival statt. Es findet sowohl online als auch vor Ort statt. Unter dem Motto "Point Of No Return" präsentiert das Festival unter anderem Lesungen, Workshops, Panels und Live-Konzerte. Ein besonderer Fokus liegt dabei auf Künstler*innen, die interdisziplinär arbeiten und die Grenzen künstlerischer Praxis erweitern.
Die Konzerte des Festivals finden in der Taborkirche statt. Zum Line-Up gehören unter anderem: Rosaceae, Laurel Halo, Lotic, Madanii und Anthony Hüseyin. Gegründet wurde das Dice Festival von Caoimhe McAlister und Danielle Kourtesis.
Heute sind die beiden Gründerinnen des Dice Festivals im ByteFM Magazin bei Friederike Herr zu Gast.
Weitere Ausgaben von ByteFM Magazin
Playlist
1.
Caribou / Never Come Back
Never Come Back (Single) / Merge

…

2.
Alexandra Savior / Howl
Howl (Single) / 30th Century Records

…

3.
Strange Ranger / Needing You
Needing You / Strange Ranger

…

4.
Bibio / Old Graffiti
Ribbons / Warp Records

…

5.
Skullcrusher / Lift
Farm b/w Lift / Secretly Canadian

…

6.
Tycho / Run Away (feat. Rum.Gold)
Run Away (Single) / Mom+Pop/Ninja Tune

…

7.
Common Saints / Idol Eyes
Idol Eyes / Starsonics

…

8.
Elephant Stone / Into The Great Wide Open
Into The Great Wide Open / Elephants On Parade

…

9.
Tom Petty / American Girl
Tom Petty & The Heartbreakers / Gone Gator Records

…

10.
Twin Peaks / Dance Through It
Dance Through It / Communion Records

…

11.
Bree Runway / Damn Daniel (feat. Yung Baby Tate)
Damn Daniel (Single) / UMG

…

12.
Bratmobile / Gimme Brains
Ladies, Women And Girls / SImple Social Graces

…

13.
Girls Of The Internet / Still (Lalou Remix)
Still / Drab Queen

…

14.
Good Sad Happy Bad / Shades
Shades / Textile Records

…

15.
Good Sad Happy Bad / Blessed
Shades / Textile Records

…

16.
Good Sad Happy Bad / This Skin
Shades / Textile Records

…

17.
Good Sad Happy Bad / Honey
Shades / Textile Records

…

18.
The Slits / I Heard It Through The Grapevine
Cut / Island

…

19.
Owen Duff / Genet On Uranus (The Story Of Us)
Genet On Uranus (The Story Of Us) / Owen Duff

…

20.
Nepumuk / Stars (feat. Negroman)
Füreinbreiterespublikum / Sichtexot

…

21.
David Bowie / Space Oddity
Best Of / Parlophone UK

…

22.
Ausschnitt: Podcast "Zeitgeister" / von Ralf Schlüter

…

23.
Haruomi Hosono / Fuyu Goe
Hosono House / Light In The Attic Records

…

24.
Matt Berninger / One More Second
Serpentine Prison / Concord

…

25.
Kevin Morby / Sundowner
Sundowner / Dead Oceans

…

26.
Helge Schneider / Fitze Fitze Fatze
22 Sehr, Sehr Gute Lieder / Roof Music

…

27.
Erregung Öffentlicher Erregung / Kacke in der Jacke
EÖE / Schlappvogel Records

…

28.
The Shacks / Wings
Wings (Single) / Big Crown Records

…

29.
The Dance / Do Yourself A Favor
Soul Force / Statik

…

30.
Lotic / Cocky
Cocky / Houndstooth

…

31.
WaqWaq Kingdom / Positive Sound
Dokkoisho / Phantom Limb

…

32.
Madanii, Llucid / Daffodil
Daffodil / Filter Records

…

33.
Tom Misch & Yussef Dayes / Nightrider (feat. Freddie Gibbs)
What Kinda Music / Beyond The Groove / Blue Note

…

34.
The Smashing Pumpkins / 1979
Mellon Collie And The Infinite Sadness / Virgin Records

…

35.
The Smashing Pumpkins / Thirty-Three
Mellon Collie And The Infinite Sadness / Virgin Records

…

36.
Deradoorian / Devil's Market
Find The Sun / Anti

…

37.
Bananagun / People Talk Too Much
The True Story of Bananagun / Full Time Hobby

…