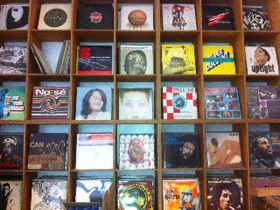 Ausgabe vom 27.08.2012:
Hören
Die Canteen verkocht nicht nur Frisches vom Tonträgermarkt wie erste Früchte der The Gaslamp Killer und Van She Alben, sondern serviert auch ein paar Molekulargerichte von
Fleetwood Mac
: Schäumchen von der aktuellen "Just Tell Me That You Want Me: A Tribute To Fleetwood Mac" Compilation sowie Varianten des unbehandelten Originals und editierte Coverversionen. Zum Nachtisch wird Vintage Sound gereicht. Weinempfehlung: Das ByteFM Album der Woche von
Cat Power
.
Weitere Ausgaben von Canteen
Playlist
1.
Van She / Radio Waves I
Idea Of Happiness / Modular
2.
Lindstrom / Rá-áko-st / Smalltown Supersound
3.
The Rapture / Children (Darkstarr Remix – radio Edit) / DFA
4.
Moon Duo / Sleepwalker
Circles / Sacred Bones
5.
Washed Out / Straight Back
Just Tell Me That You Want Me: A Tribute To Fleetwood Mac / Universal
6.
Fleetwood Mac / Dreams (Flight Facilities Edit)
7.
The Kills / Dreams
Just Tell Me That You Want Me: A Tribute To Fleetwood Mac / Universal
8.
Tame Impala / That's All For Everyone
Just Tell Me That You Want Me: A Tribute To Fleetwood Mac / Universal
9.
The Gaslamp Killer / Seven Years Of Bad Luck For Fun (with Dimlite)
Breakthrough / Brainfeeder
10.
The Gaslamp Killer / Nissim (with Amir Yaghmai)
Breakthrough / Brainfeeder
11.
Lykke Li / Silver Springs
Just Tell Me That You Want Me: A Tribute To Fleetwood Mac / Universal
12.
Cat Power / Dreams (live)
13.
Cat Power / Human Being
Sun / Matador
14.
Cat Power / Manhattan
Sun / Matador
15.
The Album Leaf / Descent
Forward/Return / Ghostly International
16.
Van She / You're My Rescue
Idea Of Happiness / Modular
17.
Wild Nothing / Paradise
Nocturne / Captured Tracks
18.
Wild Nothing / Counting Days
Nocturne / Captured Tracks
19.
JJ / 10
High Summer / Sincerely Yours
20.
Robert Miles / Children (Eat More Cake Remix)
21.
Van She / Radio Waves II
Idea Of Happiness / Modular
22.
Adrian Sherwood / Effective
Survival & Resistance / On-U Sound
23.
Fleetwood Mac / Albatross
The Pious Bird Of Good Omen / Sony
24.
Fleetwood Mac / I'm So Afraid
Fleetwood Mac / Rhino
25.
Dum Dum Girls / Lord Knows
End Of Daze / Sub Pop
26.
Rich Clifford & The Saddows / Find Me A Golden Street
Snowboy presents New Vintage / BBE