Canteen Tony! Tony! Tony!

(04.05.2020)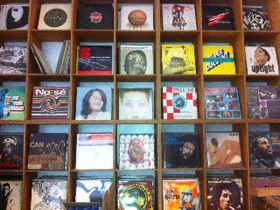 Ausgabe vom 04.05.2020: Tony! Tony! Tony!
Hören
Eine Sendung under the influence of
Tony Allen
. Der letzte Woche verstorbene Drummer steht Pate für eine Sendung, deren Tracks mehrheitlich anhand ihres (Drum-)Beats ausgesucht wurden. Neben diversen Aufnahmen von und mit Allen gibt es noch Blaxploitation-Sounds, Soft Rock, spirituellen Jazz, Rocksteady, Digital Cumbia, funky Psychedelic-Folk und derlei mehr. Zwei Stunden Inspiration und Information.
Weitere Ausgaben von Canteen
Playlist
1.
Tony Allen / Black Voices (We Are What We Play Mix)
Black Voices / Comet
2.
Greg Foat / Symphonie Pacifique
Symphonie Pacifique / Strut
3.
Marvin Gaye / "T" Plays It Cool (Unedited)
More Trouble / Motown
4.
Joel Sarakula / London Road
Companionship / Légère
5.
Oneness Of JuJu / African Rhythms
African Rhythms 1970 - 1982 / Strut
6.
Rocket Juice & The Moon / Chop Up (feat. M.anifest & M3nsa)
Rocket Juice & The Moon / Honest Jons
7.
Tony Allen / Go Back (Featuring Damon Albarn)
Film Of Life / Jazz Villa
8.
Chicano Batman / Bella
Invisible People / Pias
9.
L'Eclair / Cebando
Noshtta / Bongo Joe
10.
Tom Misch & Yussef Dayes / What Kinda Music
What Kinda Music / Beyond The Groove/Blue Note
11
Jan Tober & Ron Satterfield / Focus
Whispers: Lounge Originals / Numero
Stunde 2:
1.
Fink / Rocking Chair (Acoustic)
Bloom Innocent - Acoustic / R'coup'd
2.
Joan As Police Woman / Life's What You Make It
Cover Two / Sweet Police
3.
The Hempolics / Full Of Suprises
Kiss, Cuddle & Torture Vol. 2 / Zee Zee
4.
De Soto / C'est La Vie
Silverado Days / Echo Beach Lifefidelity
5.
Holy Hive / Didn't You Say
Float Back To You / Big Crown
6.
Chip Wickham / Interstellar
Blue To Red / Lovemonk
7.
Skalpel / Arrival
Highlight / No Paper
8.
Inga / Il A Fallu
Tears And Teeth / Trikont
9.
Katie Von Schleicher / Wheel
Consummation / Full Time Hobby
10.
Man Man / Unsweet Meat
Dream Hunting in the Valley Of The In-Between / Sub Pop
11.
Junglelyd / Salí
Junglelyd / Sounds Of Subterrania
12
Khruangbin / Time (You and I)
Mordechai / Dead Oceans
13.
Fela And Afrika 70 / Colonial Mentality
Sorrow Tears And Blood / Kalakuta