Electro Royale Let there be beats!

(17.06.2017)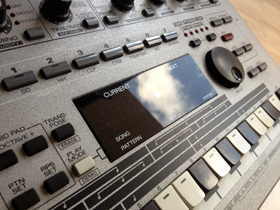 Ausgabe vom 17.06.2017: Let there be beats!
Hören
Kaum zu glauben, aber wahr: Ohne Bassdrum wäre das Leben nicht lebenswert. Oder wie
Wolfgang Voigt
so treffend sagt: Die Bassdrum ist die Bassdrum, die muss man nicht neu erfinden. Ikonika, Rosie Gaines und die anderen halten sich dran.
Weitere Ausgaben von Electro Royale
Playlist
1.
Amadou & Mariam / Bofou Safou (Lully Remix)
Bofou Safou EP / Because Music
2.
Jan Mir / Murmuration
Murmuration EP / Katermukke
3.
Ikonika / Not Actual Gameplay
Distractions / Hyperdub
4.
Degray / Reckoning Day
Origin Part I / Parse Audio
5.
Dusky / Balfour Betty
Cold Heart EP / 17 Steps
6.
A Glow / Monsters (Mijk Van Dijk Slomix)
Monsters / Roter Punkt
7.
Mass Digital / Gentle
Million Faces / Trapez
8.
Mr. C / Master Of The Universe
Incidents / Superfreq
9.
Phonique / Taking A Chance
Green Supreme / Ladies & Gentlemen
10.
EOD / Swurlk (Snarlfingercroak Mix)
Swurlk EP / Bbbbbb
Stunde 2:
1.
DC Salas / She Is Lost
The Unspoken / Biologic Records
2.
Pelvis / Dance Freak (Mail Grab's Worker's Union Remix)
Dance Freak / Pelvis Records
3.
Rosies Gaines / Closer Than Close (Vman & Onari Mix)
Closer Than Close 2010 / Nod Factor
4.
Marvin & Guy / Arpadia
Superior Conunction EP / Life & Death
5.
Exercise One / Thirty Four
Prism EP / Palinoia
6.
Session Victim / Moons And Flowers
Listen To Your Heart / Delusions Of Grandeur
7.
Clint Stewart / Let Go
Lila / Terminal M
8.
Blade & Beard / Dark Valley
Dark Valley EP / Futurist
9.
Gabriel Vitel / Quite Some Time
New New New World / Broque
10.
Calibre / Lost
Grow/Lost / The Nothing Special
11.
Roosevelt / Wait Up (Moscoman Remix)
Roosevelt Remixed 2 / Greco Roman