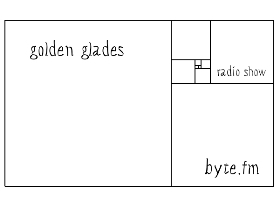 Ausgabe vom 20.05.2009:
Wer etwas wirklich möchte, muss es mehrfach fordern, am besten drei Mal.
Three times. Trois fois. Die heutige Ausgabe von Golden Glades widmet sich
ganz der mehrfachen Wiederholung im Titel. Und mit welchen Forderungen
konfrontiert sie uns? Mit sehr unterschiedlichen: Dance Dance Dance (klar),
Tora Tora Tora (hä?), Panda Panda Panda (ach so). Mit dabei: Mates Of State
und
Deerhoof
und
The Smiths
und Mates Of State und Deerhoof und...
Weitere Ausgaben von Golden Glades
Playlist
1.
Ruby Isle / Hey Hey Hey
Night Shot / Kindercore

…

2.
Say Hi / Oh Oh Oh Oh Oh Oh Oh Oh
Oohs & Aahs / Barsuk

…

3.
Parks & Recreation / La La La La La
What Was She Doing On The Shore That Night? / Hush

…

4.
White Denim / Shake Shake Shake
Workout Holiday / Full Time Hobby

…

5.
The Velvet Underground / Run Run Run
The Velvet Underground & Nico / Verve

…

6.
HIM / Slow Slow Slow
Many In High Places Are Not Well / Fat Cat

…

7.
The Sky Drops / The Go Go Go
Clouds of People / Fridabear

…

8.
Bishop Allen / Click Click Click Click
The Broken String / Dead Oceans

…

9.
Teenage Fanclub / Dumb Dumb Dumb
CDS / Sony

…

10.
Mates Of State / Ha Ha
Team Boo / Polyvinyl

…

11.
Pretty & Nice / Tora Tora Tora
Get Young / Hardly Art

…

12.
Die! Die! Die! / Sideways Here We Come
Promises, Promises / SAF Records

…

13.
PlusMinus / Yo Yo Yo
Self-Titled Long-Playing Debut Album / Teenbeat

…

14.
Woodpigeon / Knock Knock
That Was Good But You Can Do Better 7" / End of the Road

…

15.
Naked Gods / Blah Blah Blah
Welcome Home / Djangokill

…

16.
The Notwist / Gone Gone Gone
The Devil, You + Me / Big Store

…

Stunde 2 :
1.
Matt And Kim / Yea Yeah
S/t / Tellé

…

2.
Yeah Yeah Yeahs / Softshock
It's Blitz / Polydor

…

3.
Yoko Ono / Kiss Kiss Kiss (With Peaches)
Yes I'm A Witch / Astralwerks

…

4.
Lykke Li / Dance Dance Dance
Little Bit EP / Atlantic

…

5.
Deerhoof / Panda Panda Panda
Apple O' / 5 Rue Christine

…

6.
Hooray For Earth / Want Want Want
Hooray For Earth / Dopamine

…

7.
Borko / Doo Doo Doo
Celebrating Life / Morr Music

…

8.
Tenniscoats / Lutie Lutie
7" / Häpna

…

9.
The Smiths / Please, Please, Please, Let Me Get What I Want
The Best Of The Smiths / WEA

…

10.
Leonard Cohen / Lover Lover Lover
New Skin For The Old Ceremony / Sony

…

11.
The Byrds / Turn! Turn! Turn!
Greatest Hits / Sony

…

12.
The Coral Sea / Ah, Ah, Ah
Firelight / Red Clover

…

13.
Canadian Invasion / Tomorrow and Tomorrow and Tomorrow
Three Cheers For The Invisible Hand / Green Go Light

…

14.
St. Deluxe / Sick Sick Sick
St. Deluxe / Poppydisc

…

15.
Plants And Animals / Bye Bye Bye
Parc Avenue / Ships At Night

…

16.
Raoul Hausmann / Bbb + Fmsbw
Voices of Dada / LTM Recordings

…