Golden Glades
Love & Other Hopeless Things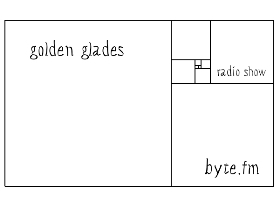 Ausgabe vom 08.05.2019: Love & Other Hopeless Things
Hören
Love & Other Hopeless Things, so heißt das neue Langspielwerk von David Scott und seinen The Pearlfishers. Immer dem meisterhaften Popsong auf der Spur, vermittelt der Schotte (übrigens auch als Uni-Dozent), wie raumgreifende Arrangements ihre beste Wirkung entfalten. Samt herzerweichender Melodien entsteht klassischer Schönklang für die Ewigkeit.
Darüber hinaus hören wir noch andere feine Beispiele, in denen die Liebe und andere hoffnungslose Dinge das Thema geben: der musikalische Briefwechsel von Jens Lekman wird dabei ebenso vorkommen wie die neuen Veröffentlichungen von Versus,
Cate Le Bon
und The Divine Comedy.
Weitere Ausgaben von Golden Glades
MarkKowarsch
vor einem Jahr
MarkKowarsch
vor einem Jahr
Playlist
1.
Versing / Renew
10000 / Sub Pop
2.
Super 8 / Something New
Backers & Maracas / Subjangle
3.
The Memory Fades / She Loves The Birds
She Loves The Birds EP / Sunday Records
4.
Versus / Invisible Love
Ex Nihilo / Ernest Jenning Rec
5.
Mini Trees / Steady Me
Steady Me - Single / minitrees.bandcamp.com
6.
Ralph Castelli / Haunted
Haunted - Single / self-released
7.
Rozi Plain / The Gap
What A Boost / Memphis Industries
8.
Aldous Harding / Designer
Designer / 4AD
9.
Lonesome Station / Restless
Restless Tape / Labelship
10.
Angela Aux / Taking The Train
In Love With The Demons / Trikont
11.
Clinic / Laughing Cavalier
Wheeltappers and Shunters / Domino
12.
Napoleon XIV / They're Coming To Take Me Away Ha-Haaa!
They're Coming To Take Me Away Ha-Haaa! / Warner
13.
The Divine Comedy / Queuejumper
Office Politics / Divine Comedy Records
14.
Toth / No Reason
Practice Magic and Seek Professional Help When Necessary / Figureight Records
15.
E.B. The Younger / Out of the Woods
To Each His Own / Bella Union
Stunde 2:
1.
Cate Le Bon / Home To You
Reward / Mexican Summer
2.
The Rodeo / Candelabre
Thérianthropie Paradis / Claro Oscuro/GoodToGo
3.
Birgitta Alida / Glory
Glory - Single / Blanca Records
4.
Bibio / Quarters
Ribbons / Warp
5.
The Pearlfishers / Could Be A Street Could Be A Saint
Love & Other Hopeless Things / Marina Records
6.
The Pearlfishers / Love & Other Hopeless Things
Love & Other Hopeless Things / Marina Records
7.
The Hannah Barberas / Cafe Song
The Hannah Barberas Get Physical / Subjangle
8.
The Hannah Barberas / Slow Cooked
The Hannah Barberas Get Physical / Subjangle
9.
TH Da Freak / Nutty
Freakenstein / Howlin Banana Records
10.
Ari Roar / Let Out
Best Behavior / Bella Union
11.
Fell / For The Pickling
For The Pickling EP / self-released
12.
Jens Lekman / Who Really Needs Who
CORRESPONDENCE / Secretly Canadian
13.
Racket Man / Scaredformore
Recreational Magic EP / racketman.bandcamp.com
14.
Hannah Cohen / Old Bruiser
Welcome Home / Bella Union
15.
She Keeps Bees / Kinship
Kinship - Single / BB*Island