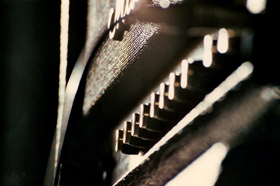 Ausgabe vom 13.11.2013: Deep Funk
Hören
Anlässlich der Veröffentlichung des Albums The Poets of Rhythm: Anthology 1992 – 2003 steht die heutige Ausgabe von In Through The Out Door im Zeichen des Deep Funk. Musik kommt sowohl von der Band selbst wie auch von ihren Vorbildern und Nachahmern. Mit dabei:
James Brown
,
The Meters
, The Sound Stylistics, The Grits,
Sharon Jones
& The Dap-Kings u.a.
Weitere Ausgaben von In Through The Out Door
Playlist
1.
The Poets Of Rhythm / More Mess On My Thing
Practice What You Preach / Soulciety Records

…

2.
James Brown / Funky President (People It's Bad)
Reality / Polydor

…

3.
The Poets Of Rhythm / North Carolina
Practice What You Preach / Soulciety Records

…

4.
Sharon Jones & The Dap-Kings / Be Easy
100 Days, 100 Nights / Daptone

…

5.
Maceo & All The King's Men / Don't Waste This World Away
Doing Their Own Thing / Charly Records

…

6.
The Meters / Here Comes The Meter Man
The Meters / Josie Records

…

7.
Dr. John / Getaway
Locked Down / Nonesuch

…

8.
Booker T. & The M.G.'s / Chicken Pox
Melting Pot / Stax Records

…

9.
The Poets Of Rhythm / Choking On A Piece Of Meat
Practice What You Preach / Soulciety Records

…

10.
The Grits / Ug Ug Ah
The Grits / Freestyle Records

…

11.
The Sound Stylistics / The Message
Play Deep Funk / Bruton Music

…

12.
The New Mastersounds / Freckles
Breaks From The Border / Tallest Man Records

…

13.
Karl Hector & The Malcouns / Passau Run
Sahara Swing / Now-Again Records

…

14.
The Poets Of Rhythm / Discern/Define
Discern/Define / Quannum Projects

…

15.
The Poets Of Rhythm / Smilin' (While You're Crying)
Discern/Define / Quannum Projects

…