Keep It Real
Solange Knowles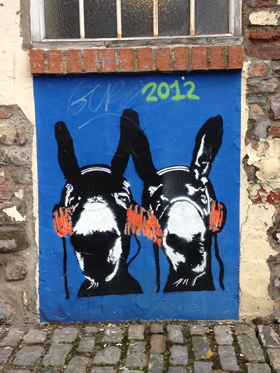 Ausgabe vom 14.10.2019: Solange Knowles
Hören
Schon lange ist
Solange
Knowles aus dem Schatten ihrer älteren Schwester
Beyoncé
herausgetreten. Spätestens mit ihrem dritten Album "A Seat At The Table" aus dem Jahr 2016 hat sich die Afroamerikanerin als eigenständige Künstlerin etabliert. Von Popkritikern und -kritikerinnen wurde das Album hochgelobt. Für ihren Song "Cranes In The Sky" gewann die Sängerin und Songschreiberin im gleichen Jahr den Grammy für den besten R'n'B-Song.
Aber nicht nur als Musikerin, Produzentin und Choreographin hat sie sich einen Namen gemacht, sondern auch als Performance-Künstlerin und Aktivistin. In ihrer Musik reflektiert die heute 33-Jährige ihre eigene Herkunft als Frau und Afroamerikanerin. Themen wie Rassismus und Identität beschäftigen sie – auch auf ihrem aktuellen Album "When I Get Home", das dieses Jahr Anfang März erschienen ist.
Um die Künstlerin und ihren Auftritt am 19. September 2019 in der Hamburger Elbphilharmonie geht es heute in "Keep It Real".
Weitere Ausgaben von Keep It Real
Playlist
1.
Solange / Rise
A Seat At The Table / Smi Col (Sony Music)
2.
Solange / Cranes In The Sky
A Seat At The Table / Smi Col (Sony Music)
3.
Solange / Almeda
When I Go Home / Smi Col (Sony Music)
4.
Solange / S McGregor (Interlude)
When I Go Home / Smi Col (Sony Music)
5.
Solange / Down With The Clique
When I Go Home / Smi Col (Sony Music)
6.
Solange / For Us By Us (Interlude)
A Seat At The Table / Smi Col (Sony Music)
7.
Solange / F.U.B.U.
A Seat At The Table / Smi Col (Sony Music)
8.
Solange / Don't Touch My Hair (feat. Sampha)
A Seat At The Table / Smi Col (Sony Music)
9.
Minnie Riperton / Lovin' U
Perfect Angel / Mwerk (H'Art)
10.
Solange / Way To The Show
When I Go Home / Smi Col (Sony Music)
11.
Solange / Things I Imagined
When I Go Home / Smi Col (Sony Music)
12.
Solange / Dreams
When I Go Home / Smi Col (Sony Music)
13.
Solange / Scales (feat.Kelela)
A Seat At The Table / Smi Col (Sony Music)
14.
Solange / My Skin My Logo
When I Go Home / Smi Col (Sony Music)
15.
Solange / Where Do We Go
A Seat At The Table / Smi Col (Sony Music)
16.
Solange / Don't Wish Me Well
A Seat At The Table / Smi Col (Sony Music)