Keep It Real
The Seven Last Words Of The Unarmed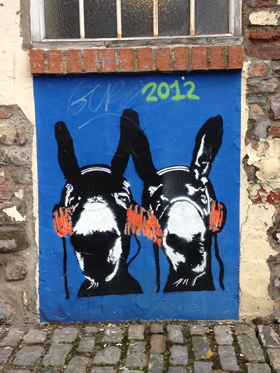 Der
Fall
George Floyd hat weltweit zu Protesten geführt. Viele Künstler*innen nutzten ihre Musik, um auf die
Gewalt
und Willkür gegenüber schwarzen Menschen aufmerksam zu machen.
Das Werk eines jungen Komponisten macht das ebenfalls - der Titel: "The Seven Last Words Of The Unarmed". Allerdings ist es schon vor sechs Jahren entstanden. Nach dem gewaltsamen Tod von George Floyd hat es nun in der Öffentlichkeit neue Aufmerksamkeit bekommen.
"Es war eine emotionale Reaktion auf die Grand Jury in Staten Island in New York, die entschied, den Polizisten - der Eric Garner getötet hat - nicht zu verurteilen", sagt Joel Thompson über die Beweggründe für sein Werk. Eric Garner starb 2014. Seine letzten Worte waren die von George Floyd "I
Can
't Breathe".
Juliane Reil hat mit dem Komponisten Joel Thompson gesprochen.
Weitere Ausgaben von Keep It Real
Playlist
1.
Beyoncé / Black Parade
Black Parade / Parkwood Entertainment/Columbia

…

2.
Kamasi Washington / Fists Of Fury
Heaven & Earth / Young Turks

…

3.
Joel Thompson, University Of Michigan Men's Glee Club,Eugene Rogers / I. "Why Do You Have Your Guns Out?" – Kenneth Chamberlain, 66
The Seven Last Words Of The Unarmed / University Of Michigan Men's Glee Club

…

4.
Joel Thompson, University Of Michigan Men's Glee Club,Eugene Rogers / What Are You Following Me For?" – Trayvon Martin, 17
The Seven Last Words Of The Unarmed / University Of Michigan Men's Glee Club

…

5.
Joel Thompson, University Of Michigan Men's Glee Club,Eugene Rogers / "Mom, I'm Going To College." – Amadou Diallo, 23
The Seven Last Words Of The Unarmed / University Of Michigan Men's Glee Club

…

6.
Joel Thompson, University Of Michigan Men's Glee Club,Eugene Rogers / "I Don't Have A Gun. Stop Shooting." – Michael Brown, 18
The Seven Last Words Of The Unarmed / University Of Michigan Men's Glee Club

…

7.
Joel Thompson, University Of Michigan Men's Glee Club,Eugene Rogers / "You Shot Me! You Shot Me!"
The Seven Last Words Of The Unarmed / University Of Michigan Men's Glee Club

…

8.
Joel Thompson, University Of Michigan Men's Glee Club,Eugene Rogers / "It's Not Real." – John Crawford, 22
The Seven Last Words Of The Unarmed / University Of Michigan Men's Glee Club

…

9.
Joel Thompson, University Of Michigan Men's Glee Club,Eugene Rogers / VII. "I Can't Breath" – Eric Garner, 43[3]
The Seven Last Words Of The Unarmed / University Of Michigan Men's Glee Club

…

10.
Kamasi Washington / Song For The Fallen
Heaven & Earth / Young Turks

…

11.
Kamasi Washington / Streetfighter Mas
Heaven & Earth / Young Turks

…