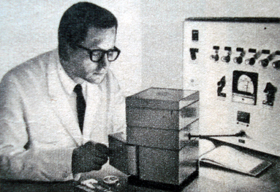 Ausgabe vom 24.01.2012:
Hören
Are You Talking to Me?
Me Myself and Why untersucht eine Stunde lang anhand von Musik und Texten dialogische, monologische, dahinplappernde, auffordernde, ablehnende, tratschende, predigende und nicht zuletzt fragende Tendenzen in Musik und Literatur.
Mit Friedrich Gulda, der sich mit Ursula Anders musikalisch verständigt, den
Beatles
, die ausnahmsweise mehr miteinander reden als spielen, Hans Castorp, der mit Fräulein Engelhart klatscht, J.B. Lenoir, der die
Mutter
seiner Freundin bittet, ein gutes Wort für ihn einzulegen und vielen anderen mehr.
Weitere Ausgaben von Me Myself & Why
Playlist
1.
Oddarang / Frames
Cathedral / Edition Records

…

2.
Beatles / The Long and Winding Road
Let It Be – The Film / United Artists

…

3.
Crooked Still / We Can Work It Out
Friends of Fall / Signature Sounds

…

4.
James Taylor / Not Fade Away
Covers / Hear Music

…

5.
Jiang Wen-Ye / Bagatelle
Piano Works / Pro Piano Records

…

6.
Thomas Mann / Der Zauberberg
Der Zauberberg

…

7.
Harry Nilsson / Yang Yang
Yang Yang / Radio Broadcast

…

8.
J.B. Lenoir / Talk to Your Daughter
Vietnam Blues / Ecidence

…

9.
Supremes / Interview
Complete Motown Singles / Hip-O Select

…

10.
Marvin Gaye / Now that You've Won Me
Complete Motown Singles / Hip-O Select

…

11.
Oddarang / Frames
Cathedral / Edition Records

…

12.
Tom Robbins / Fierce Invalids
Fierce Invalids / Random House

…

13.
Hermans Hermits / Listen People
Into Something Good / Phantom Sound

…

14.
Richie Havens / Don't Listen To Me
Something Else Again / Universal

…

15.
Friedrich Gulda & Ursua Anders / Öffentliche Musikmeditation
Mondnacht / MPS

…

16.
Giovanna Pessi & Susanna Wallumrod / If Grief Could Wait
If Grief Could Wait / ECM

…

17.
Alan Bennett / The History Boys
The History Boys / BBC

…

18.
Luis Gianneo / Triste
Complete Works / Tradition

…

19.
Emilie Simon / Je t'aime
Franky Knight / PID

…

20.
T Rex / All Alone
Futuristic Dragon / Rhino

…