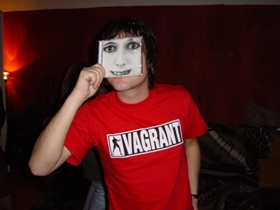 The Very Best haben auf dem neusten Album "Makes A King" die Beats reduziert und lassen ihren Songs mehr Raum für traditionelle afrikanische Einflüsse.
Österreichs Mile Me Deaf adaptieren ihren Noise-Rock auf "Eerie Bits Of Future Trips" sehr nah an
Pavement
, die Great Lake Swimmers hingegen klingen auf "A Forest Of Arms" wie eine
R.E.M.
Coverband.
Lord Huron waren eine der vielen Bands, die im Rahmen des Folk-Revival vor drei Jahren aufhorchen ließen. Mit "Strange Trails" liegt nun das neuste Album vor und kann leider nicht an die Qualität ihres Debuts anknüpfen.
Marker Starling
hingegen verzückt mit seinem charmanten souligen Pop auf "Rosy Maze".
Weitere Ausgaben von Sunday Service
Playlist
1.
Of Montreal / Virgilian Lots
Aureate Gloom / Polyvinyl

…

2.
The Elwins / Away Too Long
Play For Keeps / Affairs Of The Heart

…

3.
I Am Kloot / From Your Favourite Sky
Hold Back The Night / PIAS

…

4.
Slug / Sha La La
Ripe / Memphis Industries

…

5.
A Place To Bury Strangers / I'm So Clean
Transfixiation / Dead Oceans

…

6.
Bob Moses / Interlooper
All In All / Domino

…

7.
Barbarossa / Imager
Imager / Memphis Industries

…

8.
Matthew E. White / Feeling Good Is Good Enough
Fresh Blood / Domino

…

9.
Noel Gallagher's High Flying Birds / Riverman
Chasing Yersterday / Sour Mash

…

10.
Ewert And The Two Dragons / Getting Older
Circles / Sire

…

11.
Bassekou Kouyate & Ngoni Ba / Waati
Ba Power / Glitterbeat

…

12.
O.D. Davey / The Day We Slew The Hill
Catgut Tape / Tomlab

…

13.
Cicra Waves / Young Chasers
T-Shirt Weather / Virgin

…

14.
Michael Price / The Attachment
Entanglement / Erased Tapes

…

Stunde 2:
1.
Twinsmith / Is It Me
Alligator Years / Saddle Creek

…

2.
Herman's Hermits / Leaning On The Lamp Post
The Best Of Herman's Hermits / Bear Family

…

3.
Herman's Hermits / A Must To Avoid
The Best Of Herman's Hermits / Bear Family

…

4.
The Very Best / Hear Me
Makes A King / Moshi Moshi

…

5.
The Very Best / Kanyale
Makes A King / Moshi Moshi

…

6.
Great Lake Simmers / One More Charge At The Red Cape
A Forest Of Arms / Nettwerk

…

7.
Great Lake Simmers / Expecting You
A Forest Of Arms / Nettwerk

…

8.
Marker Starling / Flower Of Laughter
Rosy Maze / Tin Angel

…

9.
Marker Starling / Husbands
Rosy Maze / Tin Angel

…

10.
Marker Starling / Painful Spring
Rosy Maze / Tin Angel

…

11.
Mile Me Deaf / Digital Memory File
Eerie Bits Of Future Trips / Siluh

…

12.
Mile Me Deaf / Extended Fraud
Eerie Bits Of Future Trips / Siluh

…

13.
Lord Huron / Love Like Ghosts
Dead Man's Hand / PIAS

…

14.
Denai Moore / Never Gone
Elsewhere / Because Music

…

15.
H Hawkline / Moddion
In The Pink Of Condition / Heavenly

…