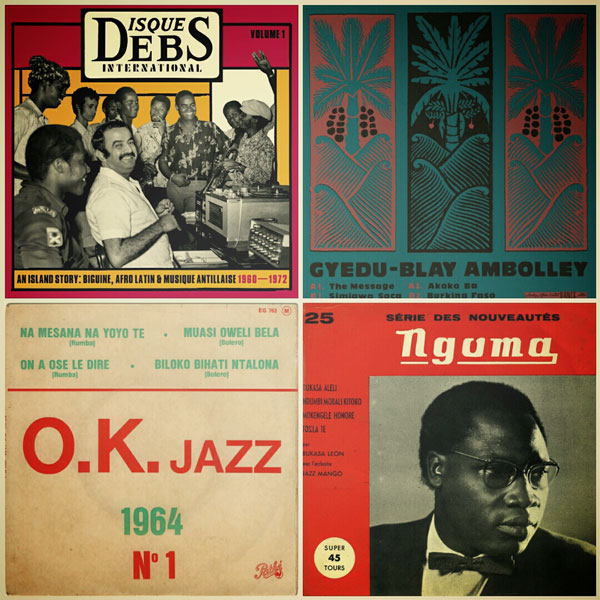 ---
---
Tcha Tcha De Mi Amor
Heute mal wieder neues Altes aus dem Tropenhaus, frisch vakumiert: Von den Antillen gibt es den ersten Teil einer Werkschau des Labels Disques Debs, aus dem Kongo haben wir O.K. Jazz und Leon Bukasa, dazu wieder veröffentlichte 80er Hits aus Ghana und von den Kapverdischen Inseln und ein paar Shellacs aus Kuba. Das alles wird umrahmt von Aretha Franklin und Shabaka Hutchings.


1.
Aretha Franklin / A Change Is Gonna Come
I Never Loved A Man The Way I Love You / Atlantic
2.
Gyedu-Blay Ambolley / The Message
The Message / Analog Africa
3.
Cojunto Jovens Africanos / Nhu Djon
Nhu Djon / Volta Pa Terra / Ostinato
4.
K. Frimpong & His Cubano Fiestas / Me Yee Owu Den
Afro-Beat Airways - West African Shock Waves - Ghana & Togo 1972-1978 / Analog Africa
5.
Daniel Forestal Et Sa Guitare / Ces P´Tis Je TÁime
Disques Debs International Vol. 1 / Strut
6.
Joseph Lacides / Mr. Morin
Disques Debs International Vol. 1 / Strut
7.
Georges Tonedor & Manuela Pioche / Colliè Et Zanno
Disques Debs International Vol. 1 / Strut
8.
Franco & O.K. Jazz / Biloko Bihati Ntalona (Bolero)
OK Jazz 1964 No. 1 / Pathé
9
Leon Bukasa / Mokengele Honoré
Série de Nouveautés 25 Ngoma / Ngoma
10.
O.K. Jazz Et Vicky Rossignol / Tcha Tcha De Mi Amor
Loningisa OK Jazz No. 2 / La Voix De Son Maître
11.
Estrellas De Ritmo / Boca Chica Costa Rica
7" / Coda
12.
Estrellas De Ritmo Con El Pianista Misterioso / Guatemala
10" / Coda
13.
Noel De Selva / Rumba Rhapsody
10" / Pan American
14.
Shabaka & The Ancestors / Natty
Wisdom Of Elders / Brownswood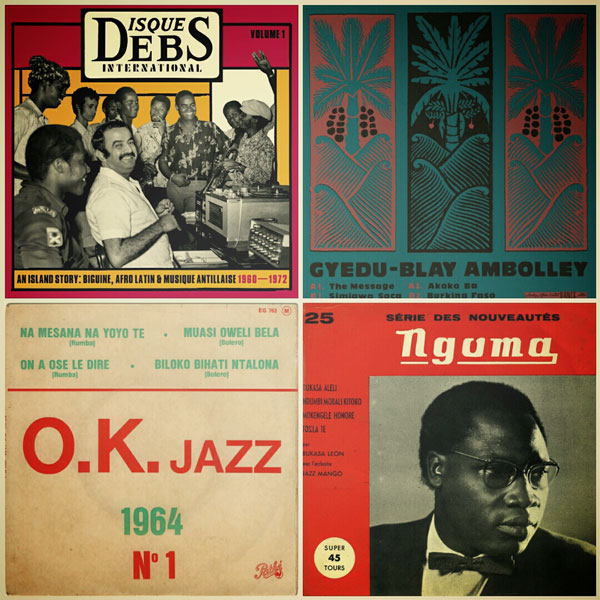 ---
Donnerstag, Sonntag 13 - 14 Uhr
Wdh: Alle zwei Wochen | Sonntag 19 - 20 Uhr
---
Ist Countrymusic der Soul des weißen Mannes oder Soul die Countrymusic des schwarzen Mannes? Weiß Robert Wyatt Rat?

Hat Moondog einen Song darüber geschrieben? Oder sollten wir alle einfach mehr spiritual Jazz aus den 70er-Jahren hören?

Warum haben Inseln spezielle Musik? Und was hat psychedelische italienische Musik mit Pasolini zu tun? Sollte man Moses Asch von Folkways Records posthum einen Nobelpreis verleihen? Sind wirklich alle Jorge-Ben-Platten so gut? Kann man aserbaidschanischen Folkjazz, Tropicália und My Bloody Valentine in einer Radiosendung spielen und keiner schaltet aus?

Die Antwort auf diese Fragen und etliches mehr erhaltet Ihr alle zwei Wochen in Bordermusic. Vielleicht.
---
Genres:
Americana , Avantgarde , Blue Grass , Blues , Country , Dub , Exotica , Experimental , Folk , Global Folk , Improvisierte Musik , Jazz , Noise , Old Time Music , Post-Punk , Psychedelic , Rock'n'Roll , Soul , Surf
---
---