ByteFM Magazin
Sebastian Król (Norden – The Nordic Arts Festival) zu Gast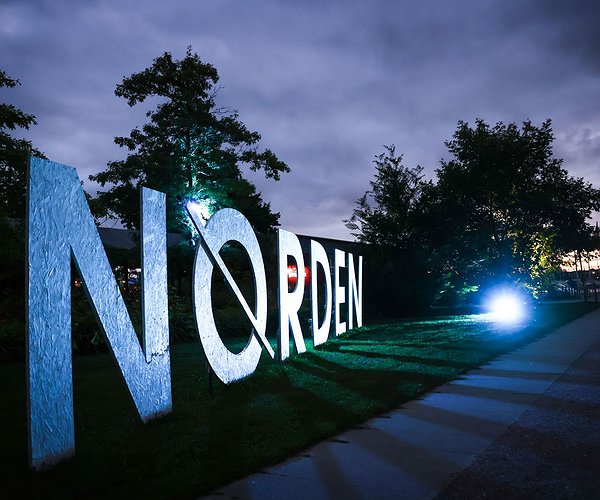 Mit seiner Mischung aus Konzerten, Straßentheater, Literatur, DIY-Kurse, Filmvorführungen und Workshops bietet das Norden Festival auch in diesem Jahr wieder, verteilt über drei lange Wochenenden, ein äußerst breites Kulturprogramm an. Und das in äußerst idyllischer Lage! Schauplatz des Festivals, das sich Nachhaltigkeit und Barrierefreiheit auf seine Fahnen schreibt, ist nämlich die norddeutsche Kleinstadt Schleswig, genauer gesagt der Strand des Ostseefjords Schlei.
Das ursprüngliche Konzept, nur Acts aus dem nordeuropäischen Raum einzuladen, wird zugunsten der Diversität in diesem Jahr ein bisschen aufgeweicht. Und so sind z. B. auch EUT und The Cool Quest aus den Niederlanden oder der in Polen lebende Singer-Songwriter João de Sousa Teil des Line-ups.
Norden – The Nordic Arts Festival (mit
Die Sterne
,
Stella Sommer
, Boy Omega, EUT, Cäthe, I See Rivers, Husten, Kuoko, Brockhoff u. a.)
25.08. -11.09.22 Schleswig – Königswiesen
Sebastian Król, der für das Booking des Programms zuständig ist, ist heute zu Gast im ByteFM Magazin bei Niklas Holle.
Weitere Ausgaben von ByteFM Magazin
Playlist
1.
Quelle Rox / Cosmic Gloom
Lilac Rush / Quelle Rox

…

2.
Florence & The Machine / You Got The Love (The XX Remix)
Remixes EP / Underground Collective

…

3.
Patti Smith Group / Frederick
Wave / Arista/Legacy

…

4.
Hot Chip / Freakout/Release
Freakout/Release (Single) / DOMINO

…

5.
Muva Of Earth / High
High (Single) / Brownswood Recordings

…

6.
Fuffifufzich / Zu Hilfe
Zu Hilfe (Single)

…

7.
Low Island / Don't Let The Light In
If You Could Have It All Again / Emotional Interference

…

8.
Motorpsycho / Blindfolded
Phanerothyme / Columbia

…

9.
Melba Moore / Pick Me Up I'll Dance
Pick Me Up I'll Dance (Single) / Epic

…

10.
Beyoncé / Summer Renaissance
Renaissance / Parkwood Entertainment / Columbia

…

11.
Kelis / Millionaire Feat. André 3000
Tasty / Arista

…

12.
Caroline Rose / Jeannie Becomes A Mom
Loner / New West Records

…

13.
Die Kerzen / Pferde & Flammen
Pferde & Flammen (Single) / Staatsakt

…

Stunde 2:
1.
Luscious Jackson / Here
Natural Ingredients / Grand Royal

…

2.
Nura / Auf der Suche
Auf der Suche (Single) / Universal

…

3.
Kraków Loves Adana / Taint My Mind
Follow The Voice / Kraków Loves Adana

…

4.
Zwanie Jonson / The Hook
We Like It / Fun In The Church

…

5.
Zwanie Jonson / We Like It
We Like It / Fun In The Church

…

6.
Dexter / Ich Bin Wavy
Haare Nice, Socken Fly / WSP Records

…

7.
Rocko Schamoni / Das Bin Nicht Ich
Das Bin Nicht Ich (Single) / Misitunes

…

8.
Courtney Barnett / Take It Day By Day
Thinks Take Time, Take Time / Mom + Pop Music

…

9.
Maxo / 48 Feat. Pink Siifu
48 (Single)

…

10.
Fontaines D.C. / Televised Mind
A Hero's Death / Pias

…

11.
Sean Lennon / Into The Sun
Into The Sun / Grand Royal

…

12.
Sophia Kennedy / Seventeen
Monsters / City Slang

…

13.
Tupelo / Black Eye
March 16-20, 1992 / Rockville

…

14.
Uncle Tupelo / Moonshiner
March 16-20, 1992 / Rockville

…

Stunde 3:
1.
Cat Power / Pa Pa Power
Pa Pa Power (Single)

…

2.
Die Sterne / Du Musst Gar Nix
Die Sterne / Pias

…

3.
EUT / Party Time
Party Time (Single) / V2/Euphorie

…

4.
Stella Sommer / Northern Dancer
Northern Dancer / Northern Dancer Records

…

5.
Husten / Wind In Den Antennen
Aus Allen Nähten

…

6.
Benny Sings / It Will Come In Time
Santa Barbara / Stones Throw

…

7.
Sleater-Kinney / Modern Girl
The Woods / Sub Pop

…

8.
The Go! Team / A Bee Without Its Sting
Get Up Sequences Part 1 / Memphis Industries

…

9.
Aïsha Devi / Hyperlands
DNA Feelings / Houndstooth Record Label

…

10.
Rhi / Swagger
The Pale Queen / Tru Thoughts

…

11.
Valentina Magaletti / Rumours Of Bread
A Queer Anthology Of Drums / Takuroku

…

12.
Geraldine Hunt / Can't Fake The Feeling
Can't Fake The Feeling (Single) / Prism

…