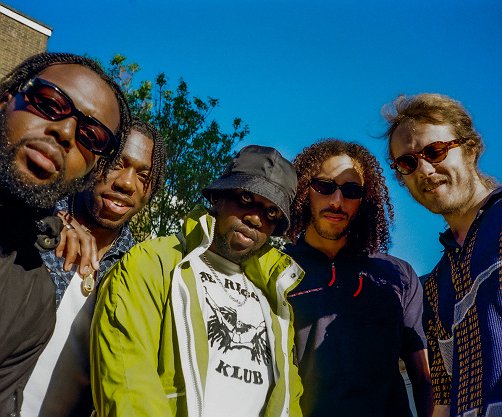 "'Where I'm Meant To Be' ist eine Reise, es ist nicht nur ein Ziel", so beschreibt Femi Koleoso, Schlagzeuger und Bandleader des Ezra Collective, das neue Album der fünfköpfigen Band, was Anfang November 2022 bei Partisan Records veröffentlicht wurde. Mit 14 Songs zeigt uns das Londoner Quintett, weiter bestehend aus TJ Koleoso (Bass), Joe Armon-Jones (Tasteninstrumente), Ife Ogunjobi (Trompete) und James Mollison (Saxofon), erneut das Facettenreichtum von hybridem und urbanem Jazz aus dem UK. Das Album ist eine musikalische Reise mit pulsierenden Beats, fließend-melodischen Blasinstrumentklängen und Kooperationen mit Sampa The Great, Kojey Radical, Emeli Sandé und Nao. Zusammen entstand dieses zweite Album "Where I'm Meant To Be" in gelegentlichen Pausen der mehr als fünf Jahre andauernden Tourneezeit des Ezra Collective.
Das Ezra Collective ist derzeit unterwegs in Deutschland, präsentiert von ByteFM:
08.02.23 Hamburg – Uebel & Gefährlich
10.02.23 Berlin – Metropol
Bevor Ezra Collective im Uebel & Gefährlich spielen, besucht uns die Band im ByteFM Magazin.
Weitere Ausgaben von ByteFM Magazin
Playlist
1.
George Soulé / Get Involved
The Fame Studio Story 1961-1973 Home Of The Muscle Shoals Sound / Ace Records

…

2.
Ezra Collective / No Confusion (feat. Kojey Radical)
Where I'm Meant To Be / Partisan

…

3.
Ghost Woman / The End Of A Gun
Anne, If / Full Time Hobby

…

4.
Tom Tom Club / Under The Boardwalk
Tom Tom Club / Island

…

5.
The Drifters / Sweets For My Sweet
Save The Last Dance For Me / Atlantic

…

6.
Fastmusic / Wow
Wow (Single) / Fun In The Church

…

7.
Gaye Sul Akyol / Anadolu Ejderi
Anadolu Ejderi / Glitterbeat Records

…

8.
Girl Scout / Weirdo
Weirdo (Single) / Made Records

…

9.
Lass / Yaco Mome (iZem Remix)
Yaco Mome (iZem Remix) (Single) / Chapter Two / Wagram

…

10.
Young Fathers / Geronimo
Heavy Heavy / Warp

…

11.
Rozi Plain / Help
Help (Single) / Memphis Industries

…

12.
John Moods / It Aint Your Time
The Great Design / Mansions And Millions

…

13.
Lump / We Cannot Resist
Animal / Chrysalis Records

…

14.
Akua Naru / The World Is Listening
The Journey Aflame / Jakarta

…

15.
Patti Smith Group / Frederick
Wave / Arista/Legacy

…

16.
Nein Danke / Jeder Tag Ist Grau
Jeder Tag Ist Grau (Single) / Dreimal A

…

17.
The Allergies / Reconcile (feat. Charles Morgan)
Reconcile (Single) / Jalapeno

…

18.
Alela Diane / When We Believed
Looking Glass / Naive

…

19.
Unhappybirthday, Andreas Dorau / Überall
Single / Tapete

…

20.
Monjola & Aby Coulibaly / Where U At
Where U At (Single) / Chamomile Records

…

21.
Little Simz / X
No Thank You / Awal Recordings

…

22.
The La's / There She Goes
The La's / Polydor

…

23.
Sorry / Let The Lights On
Anywhere But Here / Domino

…

24.
Tinariwen / Arghane Manine
Kel Tinariwen / Wedge/Rough Trade

…

25.
Roisin Murphy / Incapable
Roisin Machine / Loaded Records

…

26.
Girl Ray / Everybody's Saying That
Everybody's Saying That (Single) / Moshi Moshi

…

27.
Ezra Collective / Life Goes On (feat. Sampa the Great)
Where I'm Meant To Be / Partisan

…

28.
Fela Kuti, Ezra Collective / Lady
Single / Partisan

…

30.
Ezra Collective / Welcome To My World
Where I'm Meant To Be / Partisan

…

31.
Rhonda / Good Things Fall Apart
Single / Moshi Moshi

…

32.
Eye To Eye / Nice Girls
Eye To Eye / Warner

…

33.
Ashraf Sharif Khan & Viktor Marek / Cell Song
Sufi Dub Brothers / Staatsakt

…

34.
Jen Cloher / Analysis Paralysis
Jen Cloher / Marathon Artists

…

35.
Young Fathers / Drum
Heavy Heavy / Warp

…

36.
Nina Hagen / 16 Tons
Single / Grönland

…

37.
Penelope Houston / Putting Me In The Ground
BirdBoys / Normal

…

38.
The Grass Roots / No Exit
Let's Live For Today / UMG

…

39.
Creed Bratton / All The Faces
Coarsegold / Kindred Music

…

40.
Alice Boman / Where To Put The Pain
The Space Between / Play It Again Sam

…

41.
Stars / Pretenders
From Capelton Hill / Last Gang Records

…

42.
Gorillaz / New Gold (feat. Tame Impala & Bootie Brown)
New Gold (Single) / Parlophone

…