Was ist Musik
Der Baumeister des Wall Of Sound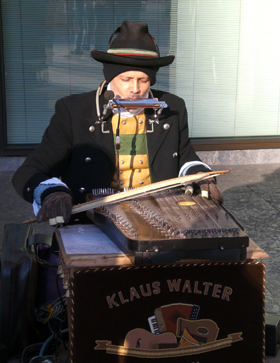 Klangmauer im Wandel der Zeiten -
Phil Spector
wird 70
Große Baumeister sind nicht immer sympathisch. Manche sind verrückt.
Phil Spector soll so einer sein. "Ich habe den Teufel in mir", sagt Spector über Spector. Da mag er Recht haben. Derzeit sitzt er im Corcoran State Prison, wegen Mordes. Im selben Gefängnis wartet Charles Manson auf sein Ende. Spector soll Mansons Anfrage wegen musikalischer Zusammenarbeit abgelehnt haben.
Am 25. Dezember wird Phil Spector 70 Jahre alt. Der von ihm erfundene Wall Of Sound ist noch immer eines der gültigsten und unerschütterlichsten Bauwerke der Popgeschichte. Schöner als die chinesische, langlebiger als die Berliner, optimistischer als die Klagemauer. Und immer wieder bauen junge Nachgeborene weiter an diesem Wall Of Sound.
Weitere Ausgaben von Was ist Musik
Playlist
1.
The Crystals / He Hit Me (And It Felt Like a Kiss)
Back To Mono(1958-1968) / EMI

…

2.
The Beach Boys / Pet Sounds
Pet Sounds / Capitol

…

3.
The Ronettes / Baby I love You
Back To Mono(1958-1968) / EMI

…

4.
The Righteous Brothers / You´ve Lost That Loving Feeling
Back To Mono(1958-1968) / EMI

…

5.
The Crystals / Then He Kissed Me
Back To Mono(1958-1968) / EMI

…

6.
The Beach Boys / Then I kissed her
Good Vibrations / Capitol

…

7.
The Ronettes / Be My Baby
Back To Mono(1958-1968) / EMI

…

8.
The Ramones / Baby I Love You
End Of The Century / Sire

…

9.
Franz Dobler / Ramones
Rock´n´Roll Fever / Caricatura

…

10.
The Jesus & Mary Chain / Just Like Honey
Psychocandy / Blanco Y Negro

…

11.
Magnetic Fields / California Girls
Distortion / WEA

…

12.
The Jesus & Mary Chain / Kill Surf City
Barbed Wire Kisses / Blanco Y Negro

…

13.
The Jesus & Mary Chain / Tower of song
The Sound Of Speed / Blanco Y Negro

…

14.
Leonard Cohen / Don´t Go Home With Your Hard-On
Death Of A Ladies Man / CBS

…

15.
Dion / New York City Song
Born To Be With You / Ace

…

16.
Grizzly Bear / He Hit Me (And It Felt Like A Kiss)
He Hit Me (And It Felt Like A Kiss)

…

17.
Coil / Tainted Love
Tainted Love / Some Bizarre

…

18.
The Ronettes / I Saw Mommy
Back To Mono(1958-1968) / EMI

…

19.
The Ettes / Take It With You

…

20.
Ramones / I want you around
I Want You Around

…

21.
Helen Love / Debbie Loves Joey
It´s My Club And I Play What I Want To / Elefant

…

22.
Sleater Kinney / I Wanna Be Your Joey Ramone
One More Hour / Matador

…

23.
Caitlin & Shauna Love / Joey Ramone Snowman
Happy New Year 2008 / Elefant

…

24.
The Ramones / Danny Says
End of the century / Sire

…

25.
Amy Rigby / Dancing With Joey Ramone
Dancing With Joey Ramone / Stiff

…

26.
Amy Rigby & Wreckless Eric / The Downside Of Being A Fuck-Up
Amy Rigby & Wreckless Eric / Stiff

…

27.
Wreckless Eric / Whole Wide World
Wreckless Eric / Stiff

…

28.
Hole / He Hit Me (And It Felt Like A Kiss)
Violet / City Slang

…

29.
The Beatles / Maggie Mae
Let It Be / Apple

…