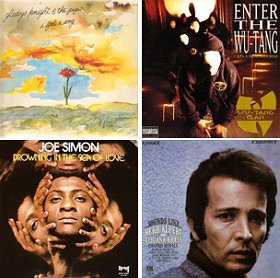 Mit Gladys Knight & The Pips reisen wir in die Vergangenheit und fragen uns, wie es eigentlich kommt, dass früher scheinbar alles besser war. Die Winter waren noch richtige Winter, das Gras war grüner und der Himmel blauer.
Can
it be that it was all so simple then?
Auch im
HipHop
war ja vieles besser. Schuld daran waren Projekte wie der
Wu-Tang Clan
, Eric B. & Rakim, Pete Rock & C.L. Smooth oder
Gang Starr
. Auch damals, in der guten alten Zeit, gab es schon eine gute alte Zeit, die reichlich zitiert wurde.
Ihr hört also quasi Musik aus der guten alten Zeit - und aus der Zeit, die in der guten alten Zeit die gute alte Zeit war.
Weitere Ausgaben von All Samples Cleared!?
Playlist
1.
Gladys Knight & The Pips / The Way We Were ([2])
I Feel A Song / Buddah (1974)

…

2.
Wu-Tang Clan / Can It Be All So Simple ([1,3])
Enter The Wu-Tang (36 Chambers) / Loud (1993)

…

3.
Labi Siffre / I Got The ([2,4,5])
Remember My Song / EMI (1975)

…

4.
Eminem / My Name Is ([3])
The Slim Shady LP / Interscope (1999)

…

5.
Def Squad / Countdown (ft. Lil' Jamal & PMD / [3])
El Nino / Def Jam (1998)

…

6.
Uko / Brondhaish ([7])
Superconductive / Klein (2000)

…

7.
Bob James / Shamboozie ([6,8])
Hands Down / Tappan Zee (1982)

…

8.
Rakim / Guess Who's Back ([7])
The 18th Letter / Universal (1997)

…

9.
Gang Starr / You Know My Steez ([10])
Moment Of Truth / Noo Trybe (1997)

…

10.
Joe Simon / Drowning In The Sea Of Love ([9])
Drowning In The Sea Of Love / Spring (1972)

…

11.
Simtec & Wylie / Bootleggin' ([12])
Gettin' Over The Hump / Mercury (1971)

…

12.
Pete Rock & C.L. Smooth / Straighten It Out ([11,13,14])
Mecca And The Soul Brother / Elektra (1992)

…

13.
Ernie Hines / Our Generation ([12])
Electrified / We Produce (1972)

…

14.
Kool & The Gang / Chocolate Buttermilk ([12])
Kool And The Gang / De-Lite (1969)

…

15.
Method Man / Release Yo Delf ([16])
Tical / Def Jam (1994)

…

16.
Herb Alpert / Treasure Of San Miguel ([15])
Sounds Like Herb Alpert / A&M (1967)

…