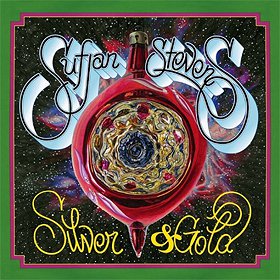 I Feel Betta With Lametta 2012
Leute, es weihnachtet sehr! Und egal, ob man sich freut oder fürchtet: Gute Musik hilft immer – bei Vorfreude wie bei Frustabbau.
Let's Get Lost hat Weihnachtslieder von besinnlich über albern bis hin zu sarkastisch im Angebot und bereitet euch so mental auf's Fest vor.
Featuring:
Sufjan Stevens
, Barenaked Ladies, The Grunts, Melt Banana und viele mehr…
Weitere Ausgaben von Let's get lost!
Playlist
1.
Sufjan Stevens / X-Mas Spirit Catcher
Silver & Gold / Asthmatic Kitty

…

2.
Sufjan Stevens / Alphabet St.
Silver & Gold / Asthmatic Kitty

…

3.
Sufjan Stevens / Up On The Housetop
Silver & Gold / Asthmatic Kitty

…

4.
Solomon Burke / Presents For Christmas
Presents For Christmas / Atlantic

…

5.
Bright Eyes / God Rest Ye Merry Gentlemen
A Christmas Album / Saddle Creek

…

6.
Melt Banana / White Christmas
A Very Indie Christmas Vol.1 / ---

…

7.
Girls Of Summer / Christmas Song
Happy Birthday Jesus - The Freakscene Christmas Album / Freakscene

…

8.
The Grunts / A Pleasure To Meet You
Happy Birthday Jesus - The Freakscene Christmas Album / Freakscene

…

9.
Jim White / Christmas Day
No Such Place / Luaka Bop

…

10.
Barenaked Ladies / Christmas Pics
Barenaked For The Holidays / Desperation

…

11.
Yo La Tengo / It's Christmas Time
A Very Indie Christmas Vol.1 / ---

…

12.
De La Soul / Millie Pulled A Pistol On Santa
De La Soul Is Dead / Tommy Boy

…

13.
Vanessa Williams & Brian McKnight / Joy To The World
Christmas With Vanessa Williams / YMC

…

14.
Je Suis France / Baby, Please Don't Get Stoned (It's Xmas)
Xmas-3 The War On Christmas! / Kindercore

…

15.
Sufjan Stevens / Do You Hear What I Hear
Silver & Gold / Asthmatic Kitty

…