Verstärker Verjüngungskur

(26.07.2017)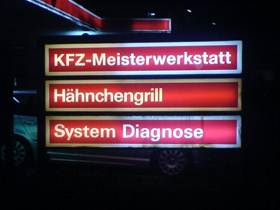 (Auszug aus dem Interview, das Verstärker-CEO D. Böhme vor einigen Tagen der New York Times gab)
BÖHME: I have had the best reviews on foreign land. So I go to Poland and make a radio show. Enemies of mine in the media, enemies of mine are saying it was the greatest show ever made on foreign soil by a radio host & CEO. I'm saying, man, they cover [garbled]. You saw the reviews I got on that show. Poland was beautiful and wonderful, and the reception was incredible.
After that, it was fairly surprising. Macron called me and said, "I'd love to have you there and honor you in France," having to do with Bastille Day. Plus, it's the 100th year of the First World War. That's big. And I said
yes
. I mean, I have a great relationship with him. He's a great guy.
NY TIMES: He was very deferential to you. Very.
BÖHME: He's a great guy. Smart. Strong. Loves holding my hand.
NY TIMES: I've noticed.
BÖHME: People don't realize he loves holding my hand. And that's good, as far as that goes.
NY TIMES: And what about your new radio show,
can
you tell us something about that?
BÖHME: Oh yeah. It's going to be a great show. Maybe the best show ever. I've done a lot of shows, believe me. This is one of the best. We have
Missy Elliott
, I mean how great is that. We have Fünf
Sterne
Deluxe, can you believe that? And
Princess Nokia
, I love Princess Nokia, she's incredible.
Tyler the Creator, many people don't like I him, I love this guy. He's talented. And tough. So we have Tyler too. And Bogus Order and
Tricky
too.
It's going to be the best show. Even better than the one in Poland. Believe me.
Weitere Ausgaben von Verstärker
Playlist
1.
Fünf Sterne Deluxe / Moin Bumm Tschack
FLASH / WM Germany

…

2.
Missy Elliott / Beep Me 911 (Feat. 702 & Magoo)
Supa Dupa Fly / Elektra

…

3.
Missy Elliott / They Don't Wanna Fuck With Me (Feat. Timbaland)
Supa Dupa Fly / Elektra

…

4.
The Delfonics / Ready Or Not Here I Come (Can't Hide From Love)
7" / Philly Groove

…

5.
Missy Elliott / Sock It 2 Me (Feat. Da Brat)
Supa Dupa Fly / Elektra

…

6.
Princess Nokia / Tomboy
Download / Rough Trade

…

7.
Princess Nokia / G.O.A.T.
Download / Rough Trade

…

8.
Tyler, The Creator / I Ain't Got Time!
Flower Boy / Columbia

…

9.
Tyler, The Creator / Where This Flower Grooms
Flower Boy / Columbia

…

10.
Cousin Stizz / No Ice
One Night Only / RCA

…

11.
Bogus Order / Bullnose Step
Zen Brakes Vol. 2 / Ninja Tune

…

12.
Bogus Order / Sometimes It Hurts
Zen Brakes Vol. 2 / Ninja Tune

…

13.
Tricky / When We Die (Feat. Martina Topley-Bird)
Ununiform / False Idols

…

14.
Fünf Sterne Deluxe / Afrokalle
FLASH / WM Germany

…

15.
Missy Elliott / Busta's Outro
Supa Dupa Fly / Elektra

…