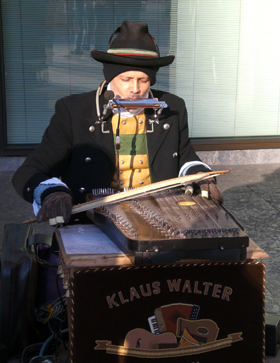 Ausgabe vom 07.07.2013: Don't call it Indie!
Hören
Don't call it Indie! Unabhängig von was? Alternativ zu wem?
"Are you scared to get happy?", fragt die vergessene Band Hurrah in ihrem Song "Hip Hip". Die Firma Cherry Red hat die Zeile zum Titel einer monumentalen Retrospektive auf die britische Independent-Szene der Achtziger Jahre gemacht. "Are you scared to get happy?" – die Frage markiert einen Paradigmenwechsel. Hurrah, die den Frohsinn schon im Namen tragen, greifen damit die "miserable post-punk bands" an, so die Liner Notes: "Indie Pop said, we don't have to sound angry to mean what we say."
Fünf CDs, 132 Songs, dokumentieren den Übergang vom mal wütenden, mal schlechtgelaunten Post-Punk zum meist fröhlichen Indie Rock, immer auf der Suche nach dem perfekten Pop-Song. Es geht 1980 los mit Girls At Our Best und endet 1990 bei den Boo Radleys, da ist Indie schon kurz vor staatstragend.
Blur
und Oasis scharren mit den Hufen, Britpop ante portas. Im Rückblick fällt es schwer, keine Verfallsgeschichte zu erzählen. Die Compilation schafft Kenntlichkeit, Veränderungen, die man damals kaum wahrgenommen hatte, bekommen eine Logik. Der erbärmliche Zustand britischer Rockmusik des 21.Jahrhunderts, er nimmt seinen Anfang mit der Hurrah-Frage "Are you scared to get happy?"
Aber wie war das damals? Independent? Unabhängig von was? Alternative? Alternativ zu was? Alternativrock ist heute weitgehend alternativlos, würde Merkel sagen. Girls At Our Best dagegen sagen: Getting nowhere fast! Get happy ohne Verklärung und Verniedlichung.
Weitere Ausgaben von Was ist Musik
Playlist
1.
The Fall / The Pre-MDMA-Years
Re-Mit / Cherry Red

…

2.
The Fall / No Respects
Re-Mit / Cherry Red

…

3.
The Fall / How I Wrote Elastic Man
How I Wrote Elastic Man / Rough Trade

…

4.
Knarf Rellöm & DJ Patex With Phil Hayes / How I Wrote Mark E.Smith
Perverted By Mark E. – A Tribute To The Fall / Zick Zack

…

5.
Jazz Butcher / Southern Mark Smith
Scared To Get Happy / Cherry Red

…

6.
Girls At Our Best / Getting Nowhere Fast
Scared To Get Happy / Cherry Red

…

7.
Girls At Our Best / Warm Girls
Warm Girls / Record Records

…

8.
Girls At Our Best / Politics
Politics / Record Records

…

9.
Liliput / Die Matrosen
Die Matrosen / Rough Trade

…

10.
The Raincoats / Runnin' Away
Runnin' Away / Rough Trade

…

11.
Dorothy / Still Waiting
Still Waiting / Chrysalis

…

12.
Saint Etienne / Only Love Can Break Your Heart
Only Love Can Break Your Heart / Heavenly

…

13.
Family Fodder / Film Music
Film Music / Fresh

…

14.
Au Pairs / Diet
Diet / 021

…

15.
Young Marble Giants / Final Day
Final Day / Rough Trade

…

16.
Weekend / The View From Her Room
The View From Her Room / Rough Trade

…

17.
Pulp / Everybody's Problem
Scared To Get Happy / Cherry Red

…

18.
Pulp / Cocaine Socialism
A Little Soul / Island

…

19.
Fire Engines / Candy Skin
Scared To Get Happy / Cherry Red

…

20.
Aztec Camera / Oblivious
Scared To Get Happy / Cherry Red

…

21.
Orange Juice / Felicity
You Can't Hide Your Love Forever / Polydor

…

22.
The Jesus And Mary Chain / Just Like Honey (Demo Oct '84)
Scared To Get Happy / Cherry Red

…

23.
Primal Scream / Velocity Girl
Scared To Get Happy / Cherry Red

…

24.
Prefab Sprout / Lions In My Own Garden
Scared To Get Happy / Cherry Red

…

25.
King Of Luxemburg / Lee Remick
Scared To Get Happy / Cherry Red

…

26.
The Go-Betweens / Karen
78 Til 79 – The Lost Album / Tag

…

27.
The Woodentops / Move Me
The Woodentops 1982-1992 Before During After / Little Indian

…

28.
Inspiral Carpets / This Is How It Feels
This Is How It Feels / Mute

…