Antikörper
Systemize The Damage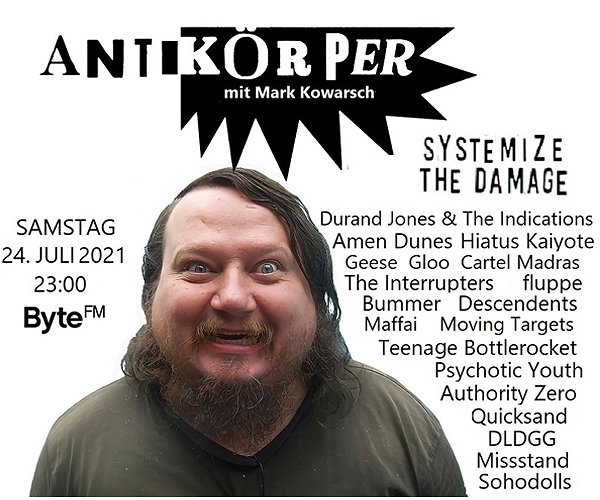 Antikörper-Moderator Mark Kowarsch präsentiert heute Abend Musik von Durand Jones & The Indicators,
Die Liga Der Gewöhnlichen Gentlemen
, Moving Targets, Authority Zero feat. Jim Lindberg/Pennywise, Missstand feat. Sarah/Akne Kid Joe, Teenage Bottlerocket, Geese, Maffai,
Descendents
,
Hiatus Kaiyote
,
Cartel Madras
,
Amen Dunes
with
Sleaford Mods
, Sohodolls, Gloo, The Interrupters, Quicksand, Bummer, fluppe und Psychotic Youth.
Weitere Ausgaben von Antikörper
Playlist
1.
Hiatus Kaiyote / Flight Of The Tiger Lily
Mood Valiant / Brainfeeder/Ninja Tune

…

2.
Cartel Madras / Fear & Loathing
The Serpent & The Tiger / Sub Pop

…

3.
Sohodolls / Silent War
Silent War (Single) / A&G Records

…

4.
Amen Dunes / Feel Nothing (With Sleaford Mods)
Feel Nothing (Single) / Sub Pop

…

5.
The Interrupters / Bad Guy
Live In Tokyo! / Hellcat/Epitaph

…

6.
Bummer / JFK Speedwagon
Dead Horse / Thrill Jockey

…

7.
Quicksand / Missile Command
Distant Populations / Epitaph

…

8.
Gloo / Work So Hard
How Not To Be Happy / Hassle Records

…

9.
Maffai / Schieflage
Shiver / Kidnap Music

…

10.
Missstand / No Country For Old White Men (Feat. Sarah/Akne Kid Joe)
Bon Apathie / Aggressive Punk Produktionen

…

11.
Authority Zero / Don't Tear Me Down (Feat. Jim Lindberg/Pennywise)
Ollie Ollie Oxen Free / Concrete Jungle

…

12.
Descendents / Like The Way I Know
9th & Walnut / Epitaph

…

13.
Psychotic Youth / Mama Mia
New Wonders 1996-2021 / Wolverine Records

…

14.
Teenage Bottlerocket / Ghost Story
Sick Sesh! / Fat Wreck Chords

…

15.
Fluppe / Nikki Swango
Blüte / Chateau La La

…

16.
Die Liga Der Gewöhnlichen Gentlemen / Houston, Wir Haben Kein Problem
Geschichterln Aus Dem Park Cafe / Tapete Records

…

17.
Durand Jones & The Indicators / Witchoo
Witchoo (Single) / Dead Oceans

…

18.
Moving Targets / Apart
Humbucker / Boss Tuneage

…

19.
Geese / Disco
Disco (Single) / Partisan Records

…