Bordermusic
Are you leaving for the country?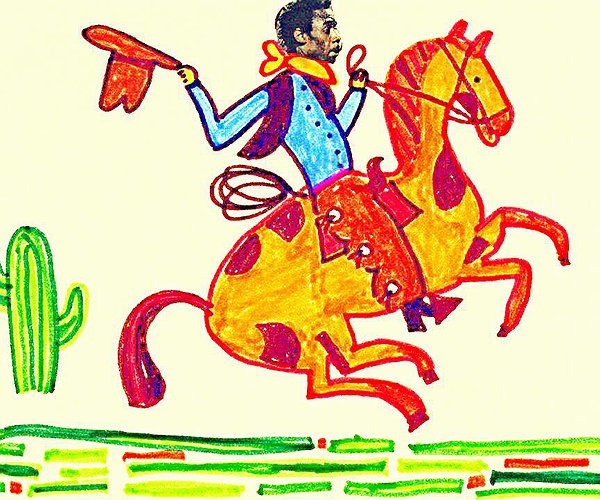 Songs von Karen Dalton und der Band "Cowboy"
Karen Dalton is the great lost voice of the New York's Greenwich Village folk scene in the 1960s. Hers was a voice to make the listener feel sad and lost. At times it was warm and supple, rippling over Something on Your Mind, for example; at others it was twisted and other-worldly, as when wrapped around Katie Cruel. It was a voice that earned her the tag "folk music's answer to Billie Holiday" - a comparison she loathed, but which was inevitable, Dalton's voice possessing that same welling, bluesy sadness. "She sure can sing the shit out of the blues," is how another singer on the Greenwich Village scene, Fred Neil, put it.

As Dalton drifted steadily downwards in the 90s,her friends pulled some strings to get her into rehab in Texas. "We got her guitars out of the pawnshop, we got her damn cat from Pennsylvania and we got her on a plane to Texas. There was a recording session set up for her for when she'd finished. She called me when she got there. She said, 'I oughtta stick my cowboy boot up your ass! One of us oughtta change her name. Get me a plane ticket home now!' I said, 'Karen, stay long enough to get your teeth fixed,' but what I didn't realise at the time was that her teeth was how she was getting access to codeine. And so she went back to New York and died on the streets a year later."
Heute in Bordermusic: Karen Dalton und das ihr gewidmete Album "Remembering Mountains - Unheard Songs of Karen Dalton", auf dem Daltons im Nachlass gefundene Texte und Gedichte von so verschiedenen Musikerinnen wie
Sharon van Etten
, Diane Cluck, Laurel Halo oder Larkin Grimm vertont wurden. Dazu werden die beiden ersten Alben der Band Cowboy von 1970 und 1971 vorgestellt. Würde ich nicht eh schon moderieren, ich würde zuhören...
Weitere Ausgaben von Bordermusic
Playlist
1.
Cowboy / 5'll Getcha 10
5'll Getcha 10 / Real gone music

…

2.
Cowboy / Please Be With Me
5'll Getcha 10 / Real gone music

…

3.
Cowboy / Song Of Love And Peace
Reach For The Sky / Real gone music

…

4.
Cowboy / Livin'in The Country
Reach For The Sky / Real gone music

…

5.
Cowboy / It's Time
Reach For The Sky / Real gone music

…

6.
Hearts & Flowers / 2nd Hand Sundown Queen
Of Horses,Kids & Forgotten Women / Capitol

…

7.
Karen Dalton / Katie Cruel
In My Own Time / Paramount

…

8.
Sharon Van Etten / Remebering Mountains
Remembering Mountains – Unheard Songs Of Karen Dalton / Tompkins Square

…

9.
Larkin Grimm / For The Love I'm In
Remembering Mountains – Unheard Songs Of Karen Dalton / Tompkins Square

…

10.
Katren Dalton / I Love You More Than Words Can Say
It's So Hard To Tell Who's Going To Love You The Best / Paramount

…

11.
Diane Cluck / This Is Our Love
Remembering Mountains – Unheard Songs Of Karen Dalton / Tompkins Square

…

12.
Justin Townes Earle / Worried 'Bout The Weather
Single Mothers / Vagrant Records

…

13.
20 Miles / Only One
Keep It Coming / Fat Possum

…

14.
Frankie Lee / Where Do We Belong
7" / Loose Music

…

15.
Doug Paisley Feat. Bonnie "Prince" Billy / Until I Find You
7" / No Quarter

…

16.
Josh T. Pearson / Country Dumb
Last Of The Country Gentlemen / Mute

…