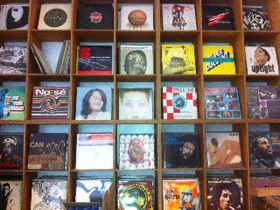 Ausgabe vom 20.02.2012:
Hören
Die Canteen besteht darauf, dass am 20. Februar noch Winter ist und serviert ein entsprechend saisonal gestricktes Menu: Musik zum Aufwärmen, eine Wolldecke aus Sound. Mit Stücken von den
Tindersticks
, Goldfrapp, John Foxx, The Chap,
Georgia Anne Muldrow
, The Caretaker und anderen sowie einer
Neil Young
Coverversion von den Chromatics.
Weitere Ausgaben von Canteen
Playlist
1.
Boards Of Canada / Into The Rainbow Vein
The Campfire Headphase / Warp
2.
Chromatics / Into The Black
Kill For Love / Italians Do It Better
3.
Elephant & Castle / En Memoria Feat. Tune-Yards
Transitions / Plug Reserach
4.
Tindersticks / Frozen
The Something Rain / City Slang
5.
The Darcys / Deacon Blues
Aja / http://thedarcys.ca/
6.
John Foxx And The Maths / Summerland (Belbury Poly Mix)
The Shape Of Things / Metamatic
7.
Ulrich Schnauss & Mark Peters / Yesterday Didn't Exist
Underrated Silence / Bureau B
8.
Liars/Blonde Redhead / Drip
We Are The Works In Progress / Asa Wa Kuru
9.
Goldfrapp / Melancholy Sky
The Singles / EMI
10.
Whomadewho / Below The Cherry Moon
Brighter / Kompakt
11.
Errors / Magna Encarta
Have Some Faith In Magic / Rock Action
12.
The Chap / Rhythm King
We Are Nobody / Lo
13.
The Gaslamp Killer / When I'm In Awe Feat. Gonjasufi
Brainfeeder Sampler 2012 / http://www.brainfeedersite.com/
14.
Mulatu Astatke / Mulatu
New York – Addis – London – The Story Of Ethio Jazz 1965 – 1975 / Strut
15.
Machito / Tanga Part 1
Afro Cuban Jazz / Verve
16.
The Caretaker / But The Stars Had Come Out
Extra Patience (After Sebald) / http://thecaretaker.bandcamp.com
17.
The Unity Sextet / Until The Next Time
The Unity Sextet / Legere
18.
Georgia Anne Muldrow / Seeds
Seeds / Someothaship Connect
19.
Lapalux / Moments
When You're Gone / Brainfeeder
20.
Ital Tek / Up / http://soundcloud.com/ital-tek
21.
Jeuce / As We Move (The Living Graham Bond Remix) / http://soundcloud.com/noisekitten
22.
Tennis / It All Feels The Same
Young And Old / Fat Possum
23.
Band Of Skulls / The Devil Takes Care Of His Own
Sweet Sour / Pias
24.
If These Trees Could Talk / Barren Lands Of A Modern Dinosaur
Red Forest / Science Of Silence
25.
CFCF / Exercise #3 (Building)
Exercises / Paper Bag
26.
Nick Drake / Things Behind The Sun
Pink Moon / Island / Universal
27.
Kokomo Arnold / Cold Winter Blues
Old Original Kokomo Blues / Catfish