Was ist Musik
If you're not white, you're black – Lord Kitchener in England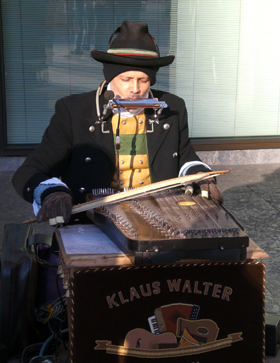 Ausgabe vom 22.06.2020: If you're not white, you're black – Lord Kitchener in England
Hören
Was können siebzig Jahre alte Songs über die Gegenwart erzählen?

"London Is The Place For Me" ist der bekannteste Song des Calypso-Sängers Lord Kitchener, der Songtitel ist Programm. London ist der Sehnsuchtsort von vielen Menschen in den britischen Kolonien der Karibik. Lord Kitchener kommt 1922 in Trinidad zur Welt und bringt es in den Vierziger-Jahren zu einer gewissen Popularität als Calypsosänger.

1948 besteigt er mit 491 weiteren Personen in Kingston/Jamaika das Motorschiff Empire Windrush. Am 21. Juni des Jahres trifft Lord Kitchener im Hafen von Tilbury ein. Eine imposante Erscheinung, gutaussehend, hochgewachsen, elegant gekleidet, wird er von einem britischen Fernsehteam empfangen.

Kitchener gehört zur sogenannten Generation Windrush. Nach dem Ende des zweiten Weltkriegs bringt die Empire Windrush Menschen aus den karibischen Kolonien ins sogenannte Mutterland, England braucht Arbeitskräfte. Viele weitere Schiffen werden folgen, die Generation Windrush wird die britische Gesellschaft verändern, nicht nur auf dem Arbeitsmarkt, auch kulturell.

Im Jahr 2018 wird in Großbritannien der 70. Jahrestag der Generation Windrush begangen. Für Angehörige dieser Generation gibt es jedoch ein böses Erwachen. Mehr als eine halbe Million Menschen waren zwischen 1948 und 1973 ohne Dokumente völlig legal aus der Karibik nach Großbritannien gekommen. Die Behörden hatten versäumt, ihre Einreise zu dokumentieren oder sie als britische Staatsbürger*innen zu registrieren. Das bedeutet, dass viele Angehörige der Generation Windrush und ihre Nachkommen bis heute keinen legalen Aufenthaltsstatus haben.

"London Is The Place For Me - Lord Kitchener In England 1948-1962" – unter diesem Titel erscheint jetzt die achte Folge der großartigen Reihe zur "Music Of Young Black London" mit Antworten auf die Eingangsfrage: Was können siebzig Jahre alte Songs über die Gegenwart erzählen?

Zum Beispiel das hier: "If you're not white, you're black" (Lord Kitchener).
Weitere Ausgaben von Was ist Musik
Playlist
1.
The Mighty Terror / Hydrogen Bomb
London Is The Place For Me 8: Lord Kitchener In England, 1948–1962 / Honest Jon's
2.
The Mighty Destroyer / Adolf Hitler
Adolf Hitler / Honest Jon's
3.
Lord Kitchener / London Is The Place For Me
London Is The Place For Me 8: Lord Kitchener In England, 1948–1962 / Honest Jon's
4.
Lord Kitchener / Alphonso In Town
London Is The Place For Me 8: Lord Kitchener In England, 1948–1962 / Honest Jon's
5.
Lord Beginner / Sons And Daughters Of Africa
London Is The Place For Me 8: Lord Kitchener In England, 1948–1962 / Honest Jon's
6.
Lord Kitchener / Food From The West Indies
London Is The Place For Me 8: Lord Kitchener In England, 1948–1962 / Honest Jon's
7.
Lord Kitchener / If You're Brown
London Is The Place For Me 8: Lord Kitchener In England, 1948–1962 / Honest Jon's
8.
Lord Kitchener / If You're Not White, You're Black
London Is The Place For Me 8: Lord Kitchener In England, 1948–1962 / Honest Jon's
9.
Lord Kitchener / Manchester Football Double
London Is The Place For Me 8: Lord Kitchener In England, 1948–1962 / Honest Jon's
10.
Lord Kitchener / The Dennis Compton Calypso
London Is The Place For Me 8: Lord Kitchener In England, 1948–1962 / Honest Jon's
11.
Louise Bennett / Bongo Man
London Is The Place For Me 8: Lord Kitchener In England, 1948–1962 / Honest Jon's
12.
Marie Bryant / My Handy Man
London Is The Place For Me 8: Lord Kitchener In England, 1948–1962 / Honest Jon's
13.
Billy Sholanke / Kana Kana
London Is The Place For Me 8: Lord Kitchener In England, 1948–1962 / Honest Jon's
14.
Count Ossie / African Shuffle
Fire Escape / Trojan
15.
Count Ossie / Drums For The Wise Man
Man From Higher Heights / Trojan