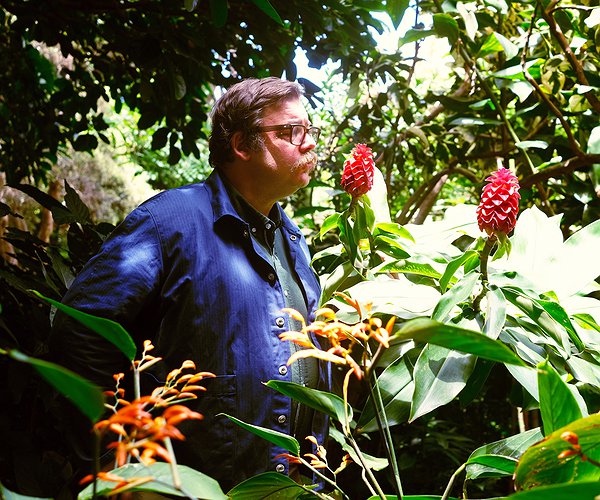 25 Jahre – in der Zeitrechnung der Popmusik ist das verdammt lang. 25 Jahre liegen beispielsweise zwischen "Please Please Me" von The Beatles und "It Takes A Nation Of Millions To Hold Us Back" von Public Enemy. Oder zwischen den stilprägenden Loft-Parties von Disco-Pionier David Mancuso und dem Debütalbum von Daft Punk. Oder zwischen dem ersten und dem zweiten Soloalbum von Erobique.
Wir erinnern uns: 1998 veröffentlichte Carsten Meyer "Erosound", sein erstes Album unter dem Künstlernamen Erobique. Nun erscheint ein Vierteljahrhundert später das zweite. Dieses Vierteljahrhundert erscheint nur deshalb nicht so lang, weil Meyer in der Zwischenzeit unfassbar produktiv war, ob als Teil von International Pony und Hamburg Spinners, Gastmusiker für jede*n, der oder die Rang und Namen hat oder als Komponist für Film und Fernsehen – und auch seine improvisierten Live-Konzerte sind legendär.
Für den lang erwarteten zweiten Teil der Erobique-Saga hat Meyer dementsprechend viele prominente Gäste eingeladen: Sophia Kennedy übernimmt Gesangsparts, die Rhythmusgruppe besteht aus Lucas Kochbeck (Bacao Rhythm & Steel Band, Hamburg Spinners) und Christoph M. Kaiser (The Jeremy Days), die Bläser stammen von Jan Delays Band Disco No. 1. Und das ist nur der Anfang der Gästeliste von "No. 2", das am 16. Juni 2023 endlich erscheinen wird.
Kurz vor der Veröffentlichung von "No. 2" ist Erobique zu Gast im ByteFM Magazin bei Leif Gütschow.
(Foto: Anne Backhaus)
Weitere Ausgaben von ByteFM Magazin
LeifGuetschow
vor 3 Monaten
---
LeifGuetschow
vor 3 Monaten
---
Playlist
1.
Aldous Baker / Acrobat
Parcades / Spirit Goth Records

…

2.
Hamburg Spinners / Der Magische Kraken
Der Magische Kraken / Carsten Meyer

…

3.
Saint Etienne / Only Love Can Break Your Heart
Foxbase Alpha / Warner

…

4.
Florist / Feathers
Florist / Double Double Whammy

…

5.
Michel van Dyke / Den Vögeln Hinterher
Disko Fox / Michel van Dyke

…

6.
Girl Ray / Up
Up (Single) / Moshi Moshi

…

7.
Built To Spill / Bloody Rainbow
Built To Spill Plays The Songs of Daniel Johnston / Ernest Jenning Record Co.

…

8.
Built To Spill / Mountain Top
Built To Spill Plays The Songs of Daniel Johnston / Ernest Jenning Record Co.

…

9.
Daniel Johnston / Everlasting Love
Lost And Found / Eternal Yip Eye Music/Thirty Tigers

…

10.
The Beatles / Across The Universe
Let It Be / EMI

…

11.
Yaeji / Done (Let's Get It)
Done (Let's Get It) (Single) / Yaeji/XL

…

12.
Free Love / Open The Door
Inside / Lost Map

…

13.
Kate NV / Plans (Radio Edit)
Plans (Single) / Rvng Intl.

…

14.
Decisive Pink / Haffmilch Today (Jane Weaver Remix)
Haffmilch Today (Jane Weaver Remix) (Single) / Fire

…

15.
Agar Agar / Trouble
Trouble (Single) / Grönland

…

16.
The Parade / I'm A Dreamer
I'm A Dreamer (Single) / Dumont Dumont

…

17.
Fredwave / La La
La La (Single) / Fredwave / Other Projects

…

18.
Erobique / Verkackt
Verkackt (Single) / Asexy

…

19.
Erobique / Salut Les Copines!
Single / Asexy

…

20.
International Pony / Gonzos Grill Party
Mit Dir Sind Wir Vier / Sony / Columbia

…

21.
Erobique / Urlaub In Italien
Urlaub In Italien / Erobique

…

22.
Grateful Dead / Touch Of Grey
In The Dark / Grateful Dead Productions

…

23.
Hot Chip / Freakout/Release
Freakout/Release (Single) / Domino

…

24.
Holly Beth Vincent / For What It's Worth
Holly And The Italians / Virgin Records

…

25.
Squeeze / This Summer
Ridiculous / Mercury Records

…

26.
Jazzanova / Heatwave (feat. Olivier St. Louis)
The Pool / Sonar Kollektiv

…

27.
Janelle Monáe / Water Slide
The Age Of Pleasure / Atlantic Records

…

28.
Dent May & His Magnificent Ukulele / Meet Me In The Garden
The Good Feeling Music Of Dent May & His Magnificent Ukulele / Paw Tracks

…

29.
Crucchi Gang / Cavaliere d'Argento
Fellini / Reiseziel Mond/Universal Music

…

30.
Crucchi Gang / Mi Piace
Fellini / Reiseziel Mond/Universal Music

…

31.
Ela Minus / Dominique
Acts Of Rebellion / Domino

…

32.
Willie Nelson / Bubbles In My Beer
Shotgun Willie / Atlantic Recording

…

33,
The Specials / Tears In My Beer
Guilty 'Til Proved Innocent / UMG Recordings

…

34,
Calexico / Alone Again Or
Feast Of Wire (20th Anniversary Remastered Deluxe Edition) / City Slang

…

35.
Mayra Andrade / Manga
Manga / Sony

…

36.
Caroline Rose / Jeannie Becomes A Mom
Loner / New West Records

…

37.
Rocky Burnette / Tired Of Toein' The Line
The Son Of Rock And Roll / Bucks Record

…

38.
Eli Preiss / Gameboy
Lvl Up / Universal

…

39.
Bibiza / Opernring Blues
Opernring Blues / Columbia

…

40.
Girlwoman / Prisma
Das Große Ganze / Staatsakt

…

41.
Eternal Summers / Millions
Millions / Kanine

…

42.
Husten / Lass Mich Bitte Nicht in Ruh
Single / Vikram

…

43.
Poolside / Harvest Moon
Pacific Standard Time / Day & Night Recordings

…

44.
Castlebeat / Poolside
Castlebeat / Spirit Goth

…

45.
The High Llamas / Checking In, Checking Out
Gideon Gaye / Alpaca Park

…

46.
The Hempolics / Play On
Play On (Single) / Zee Zee Records

…