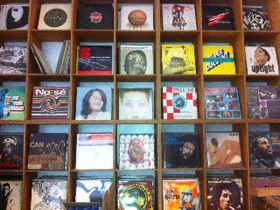 Ausgabe vom 12.03.2012:
Hören
Die Canteen mit einem lecker Süppchen aus viel neuer Elektronik. 2 Bears, Metronomy und Massive Attack Remixe, ein Apparat Dub,
Four Tet
&
Burial
, Mouse On Mars, Clams Casino und die Sleigh Bells sowie ein Leftside Wobble (aka Coldcuts Joinathan More) Edit und Album Release-Jubiläen von The Jam und Stevie Wonders "Music Of My Mind". Love Having You Around!
Weitere Ausgaben von Canteen
Playlist
1.
Acid Washed / Change (Femme Fountain Remix By The Get Downs)
Change Remixes / Record Makers
2.
Infernal Devices / Life In Stereo
A Million Miles Above / http://soundcloud.com/infernaldevices/life-in-stereo
3.
The 2 Bears / Heart Of The Congos
Be Strong / Southern Fried
4.
Metronomy / Corinne (Benoit & Sergio Cover)
The English Riviera Unreleased Remixes / Because
5.
Lescop / La Foret
Kistuné Parisien II / Kitsuné
6.
Apparat / Candil De La Calle (Apparat Dub Mix) / Mute
7.
The Golden Filter / Killed In Room 616 Refix (John Talabot's "Kill Me" Remix) / Perfectly Isolated
8.
Four Tet & Burial / Nova
Soundcloud / http://soundcloud.com/four-tet
9.
Gang Colours / I Don't Want You Calling
The Keychain Collection / Brownstone
10.
Massive Attack / Teardrop (Borealis' "A Light So Heavy Crawls, Wet With Sleep" Rescreen)
Soundcloud / http://soundcloud.com/jessesomfay/tracks
11.
Mouse On Mars / Wienuss
Parastrophics / Monkeytown
12.
Clams Casino / Swervin' Remix (Instrumental)
13.
Portico Quartet / Ruins
Portico Quartet / Real World
14.
Si Tew / Silhouette Feat. Shanade
Silhouette / At Jazz
15.
Evy Jane / Sayso
Evy Jane EP / http://store.kingdeluxe.ca/album/evy-jane-12-and-digital
16.
Soap And Skin / Boat Turns Toward The Port
Narrow / Pias
17.
Sleigh Bells / You Lost Me
Reign Of Terror / Zomba / Sony
18.
Metronomy / The Look (Two Inch Punch's Shook Shook Refix)
The English Riviera Unreleased Remixes / Because
19.
Chairlift / Turning
Something / Sony
20.
Himanshu / Tu Nach feat. Duggla Don
Nehru Jackets
21.
Barry Adamson / Black Holes In My Brain
I Will Set You Free / Central Control International
22.
Etta James & Sugar Pie DeSanto / Do Make Myself Clear ?
Sugar Pie DeSanto: Go Go Power – Complete Chess Singles 1961 - 1966 / Ace
23.
The Jam / Town Called Malice
The Gift / Universal
24.
Stevie Wonder / Love Having You Around
Music Of My Mind / Motown / Universal
25.
Lee Oskar / Haunted House (Leftside Wobble Edit)
Soundcloud / http://soundcloud.com/leftside-wobble