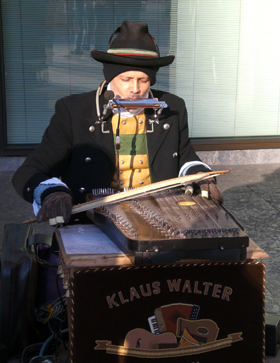 Ausgabe vom 06.09.2009:
Let´s change the world with music. Schöne Idee, aber ist die Welt bereit?
Let´s change the world with music. Ist der Titel des neuen Albums von
Prefab Sprout
. Songs heißen: I love music. Let there be music. Sweet Gospel Music. Meet the new Mozart. In Berlin wird über klassische Musik nachgedacht. Im großen Stil. XVI Reflections On Classical Music. Mit römischen Ziffern. In Köln covern sie lieber DJ Ötzi. In Jamaika erlebt der Rocksteady eine Renaissance. Auf der Reeperbahn steht ein Denkmal der
Beatles
und der Lord Invader macht Erfahrungen fürs Leben. Jamie T. clasht Joan Baez mit Chaka Demus, auf dem Planeten Mu(sik) toben Dubplate Wars.
Was ist MusikMusik?
Starring: David Last vs. Zulu, Fat Freddy´s Drop, Gas, The Clean, Jega, Eugene Chadbourne, Lawrence, Hey-O-Hansen, The Dynamites, Jürgen Paape,
Beyoncé
, The Zombies...
Weitere Ausgaben von Was ist Musik
Playlist
1.
Prefab Sprout / Sweet Gospel Music
Let´s Change The World With Music / Kitchenware

…

2.
Ian Simmonds / The Dog
Burgenland Dub / Musik Krause

…

3.
Jamie T. / Earth Wind & Fire
Kings & Queens / EMI

…

4.
Jamie T. / Chaka Demus
Kings & Queens / EMI

…

5.
Chaka Demus & Pliers / Murder She Wrote
All She Wrote / Island

…

6.
Leroy Sibbles / People Rocksteady
Rocksteady – The Roots Of Reggae / Moll Selekta

…

7.
Desmond Dekker / 007 Shanty Town
The Story Of Jamaican Music / Island

…

8.
Tommy Mccook & The Supersonics / Dub With Strings
Pleasure Dub / Pressure Sounds

…

9.
U Roy & The Paragons / The Tide Is High
Version Galore / Trojan

…

10.
The Dynamites / Dub Star
Sound System Internationa Dub LP / Pressure Sounds

…

11.
The Dynamites / Kingston Dub Town
Sound System Internationa Dub LP / Pressure Sounds

…

12.
Fat Freddy´S Drop / The Nod
Dr.Boondigga & The Big BW / Drop

…

13.
David Last Vs.Zulu / The Hitparade
Musically Massive / Staubgold

…

14.
David Last Vs.Zulu / Put Me On Your Guestlist (Ft. Kidtronix And Maharani)
Musically Massive / Staubgold

…

…

…

Stunde 2:

…

1.
Jega / Soulflute
Variance / Planet Mu

…

2.
Bizzy B / Dubplate Wars
Retrospective / Planet Mu

…

3.
Prefab Sprout / I Love Music
Let´s Change The World With Music / Kitchenware

…

4.
The O´Jays / I Love Music
Collector´s Items / Philadelphia International

…

5.
Prefab Sprout / Let There Be Music
Let´s Change The World With Music / Kitchenware

…

6.
Prefab Sprout / Electric Guitars
Andromeda Heights / Kitchenware

…

7.
The Beatles
Rubber Soul / EMI

…

8.
The Clean / In The Dreamlife You Need A Rubber Soul
Mister Pop / Morr

…

9.
Lord Invader And His Calypso Group / My Experience On The Raper Band
Lord Invader And His Calypso Group / Marga Rita Records

…

10.
Lord Invader And His Calypso Group / Auf Wiedersehen
Lord Invader And His Calypso Group / Marga Rita Records

…

11.
Eugene Chadbourne / Der Führer´s Face
Sidewalk Songs & City Stories / Trikont

…

12.
Prefab Sprout / Meet The New Mozart
Let´s Change The World With Music / Kitchenware

…

13.
Hauschka / Zuhause
XVI Reflections On Classical Music / Point Music

…

…

…

Stunde 3:

…

1.
Lawrence / Daydream
XVI Reflections On Classical Music / Point Music

…

2.
Takeo Toyama / Lithium
XVI Reflections On Classical Music / Point Music

…

3.
Gas / Zauberberg IV
XVI Reflections On Classical Music / Point Music

…

4.
Wassermann / Berg Und Tal
Kompakt Total 10 / Kompakt

…

5.
Jürgen Paape / Ofterschwang
Kompakt Total 10 / Kompakt

…

6.
Justus Köhncke / Give It To Me Easy
Kompakt Total 10 / Kompakt

…

7.
The Zombies / Time Of The Season
Odessey And Oracle / Rhino

…

8.
Kinky Justice / Ein Stern (Der Deinen Namen Trägt)
Mein Stern / ICI

…

9.
DJ Ötzi / Ein Stern (Der Deinen Namen Trägt)
Mein Stern / Sony

…

10.
Antony & The Johnsons / Crazy In Love
Crazy In Love / Beggars Banquet

…

11.
Beyoncé / Crazy In Love (Ft. Jay Z)
Dangerously In Love / Sony

…

12.
The Dynamites / Red Moon
Sound System Internationa Dub LP

…

13.
Hey-O-Hansen / Die Sonn Und Der Mond
Sonn Und Mond – Rare And Unreleased Austro Dub Tracks / Pingipung

…