Was ist Musik
Rock 'n' Roll Is Killing My Life. Und wenn nicht: Suicide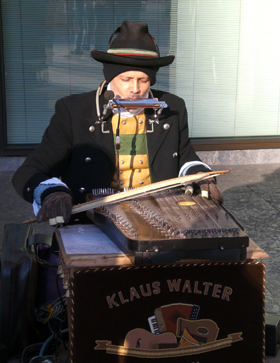 Ausgabe vom 15.07.2012: Rock 'n' Roll Is Killing My Life. Und wenn nicht: Suicide
Hören
Füxa,
Neneh Cherry
& The Thing,
Spiritualized
,
Four Tet
. Vier aktuelle Platten, vier Anlässe für eine "Invitation To
Suicide
" – das war mal der Titel eines Suicide-Tribute-Albums. Dream Baby Dream mit dem Traum von einer Band.
"Suicide was always about life. But we couldn' t call it Life. So we called it Suicide because we wanted to recognize life. " (Alan Vega, 1985).
"Y'know, people have always said that my work was ahead of its time. But I've always believed it's been right on time." (Alan Vega)
"One of the great myths about Suicide," says Vega, "is that we were all about nihilism and negativity. In choosing that name, we were referring to how the world itself seemed on the verge of suicide. But we were also about recognising how alive things were. When it came to our live shows, we didn't want to entertain people. We wanted to throw the meanness and nastiness of the street right back at the audience. If we sent them all running for the exits, that was considered a good show. Some nights we'd barricade the doors so they had no choice but to stay and listen. Every night was like fighting a revolution."
Roy Trakin said when they issued their first record : "Suicide is not about alienation but about hope. They are not robotic monsters intent on leveling civilization and culture. Suicide will outlast each trend because they are the real thing -unique and experimental, yet totally accessible and in line with the tradition of rock and roll. Suicide is Alan Vega's vulnerability and cock-eyed pessimism/optimism as it is Martin Rev's stoical mask hiding a sense of humor and humility that is inspiring as it is heartbreaking."
"... I never heard anything avant-garde. To me it was just New York City Blues." - Alan Vega 1980
Weitere Ausgaben von Was ist Musik
Playlist
1.
Suicide / Rock 'n' Roll Is Killing My Life
Ghost Riders / ROIR

…

2.
Neneh Cherry & The Thing / Dream Baby Dream
The Cherry Thing / Smalltown Supersound

…

3.
Luna / Dream Baby Dream
An Invitation To Suicide – A Tribute To The Songs Of Martin Rev & Alan Vega / Munster

…

4.
Füxa / Some Things Last A Long Time
Electric Sound Of The Summer / Rocket Girl

…

5.
Füxa / Marty Suicide
Electric Sound Of The Summer / Rocket Girl

…

6.
Velvet Underground / Sunday Morning
Peel Slowly And See / Polydor

…

7.
Suicide / Cheree
Suicide / Red Star

…

8.
Füxa / Cheree
Electric Sound Of The Summer / Rocket Girl

…

9.
Neneh Cherry & The Thing / Dream Baby Dream (Four Tet Remix)
The Cherry Thing / Smalltown Supersound

…

10.
Spacemen 3 / Take Me To The Other Side
Spacemen 3 / Glass

…

11.
Sonic Boom / Rock 'n' Roll Is Killing My Life
An Invitation To Suicide – A Tribute To The Songs Of Martin Rev & Alan Vega / Munster

…

12.
Spiritualized / Life Is A Problem
Huh? / Double Six

…

13.
Velvet Underground / Jesus
Peel Slowly And See / Polydor

…

14.
John Cale / I Wanna Talk 2 U
I Wanna Talk 2 U / Domino

…

15.
Bruce Springsteen / Dream Baby Dream
Dream Baby Dream / Blast First Petite

…

16.
Suicide / Dream Baby Dream
Dream Baby Dream / Virgin

…

17.
Al Green / Let's Stay Together
Cream Of Al Green / Hi

…

18.
Hot Chocolate / Everyone's A Winner
Best Of / Ariola

…

19.
Alan Vega / Everyone's A Winner
Saturn Strip / Ze

…

20.
Fun Boy Three / Our Lips Are Sealed
Wainting / Chrysalis

…

21.
Füxa / Our Lips Are Sealed
Electric Sound Of The Summer / Rocket Girl

…