Was ist Musik
Thank you for talkin´ to me Africa - Move your ass(ets), your mind might follow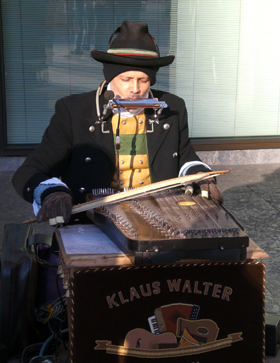 Ausgabe vom 10.02.2013: Thank you for talkin´ to me Africa - Move your ass(ets), your mind might follow
Hören
"Thank you for talkin´ to me Africa" ist die ins Dystopische verlangsamte Albumversion von "Thank you (falettin me be mice elf)", Nummer Eins Hit für
Sly & The Family Stone
am Valentinstag 1970. "The Blues (it began in Africa)" ist der Titel eines Tracks von Romare, ein geheimnisvolles Projekt, das Verbindungen sucht: "the history of African and African-American culture in the form of collage to create musical conversations between the past, present and future". Die EP dazu heißt "Meditations on Afrocentrism" (thx Claas Gefroi). "Our
Roots
began in Africa" ist der Titel eines Stückes von
Pharoah Sanders
.
"Move your assets" ist der - von
George Clinton
entlehnte - Titel eines Tracks von Nicholas Desamory aus seinem Album "Like you", das mir Nicholas Bussmann in Johannesburg geschenkt hat. Von ihm bekam ich auch südafrikanische House Music, von Max Annas südafrikanischen Jazz.
"Repatriation Remedy" ist der Titel eines Songs von The Third World All Stars, der offen lässt, wohin die Repatriation-Reise gehen soll: von London nach Jamaika oder nach Afrika? "Between 1948 and 1970 nearly half a million people left their homes in the West Indies to seek a better life in the UK, by far the largest group came from Jamaica." The Third World All Stars waren darunter, "they helped define British Reggae", besonders beliebt die Abteilung Lovers Rock, wiederzuentdecken ist Louisa 'Markswoman' Mark. Und ein weiteres Mal: Brenda Ray.
"Thank you for funkin up my life" ist der Titel eines Albums von Donald Byrd (R.I.P.), seine Antwort auf "Thank you (falettin me be mice elf)".
Weitere Ausgaben von Was ist Musik
Playlist
1.
Romare / The Blues (It Began In Africa)
Meditations On Afrocentrism EP / Black Acre

…

2.
Pharoah Sanders / Our Roots Began In Africa
Our Roots Began In Africa / Mute

…

3.
Dudu Pukwana / Baloyi
In The Townships

…

4.
Johnny Dyani, Okay Temiz, Mongezi Feza / Imbomgolo 1
Rejoice

…

5.
Chris Mcgregors Brotherhood Of Breath / MRA
Chris Mcgregors Brotherhood Of Breath

…

6.
Brothers Of Peace / Manyonyoba
King Of Kwaito

…

7.
Boom Shaka / Makwere
7th Anniversary

…

8.
Bonobo / Cirrus
The North Boarders

…

9.
Nicholas Desamory / Move Your Assets
Like You / M=Minimal

…

10.
Nicholas Desamory / Shopping For Free
Like You / M=Minimal

…

11.
Romare / Footnotes (Meditations On Afrocentrism)
Meditations On Afrocentrism EP / Black Acre

…

12.
Romare / Down The Line (It Takes A Number)
Meditations On Afrocentrism EP / Black Acre

…

13.
Blkjks / More Afrika (MRE Edit)
More Afrika

…

14.
Oy / Doondari
KOKOKYINAKA

…

15.
Sly & The Family Stone / Thank You For Talking To Me Africa
There's A Riot Goin' On / Epic

…

16.
Donald Byrd / Thank You For Funkin Up My Life
Thank You For Funkin Up My Life / Elektra

…

17.
Third World All Stars / Repatriation Remedy
Rebel Rock / Sound Dimension

…

18.
Lee Scratch Perry & Erm / No Bad Boy
Humanicity / Rubis Management

…

19.
Brenda Ray / Sweet Sweet Wine
Walatta / TW

…

20.
Louisa "Markswoman" Marks / Keep It Like It Is
Breakout / Soul Jazz

…

21.
Louisa "Markswoman" Marks / Baby Simone
Breakout / Soul Jazz

…